Latest posts by Sureswift Support
(see all)
The last day of September in 2003 was almost like any other day. I woke up at 5:30 a.m., showered, got dressed, and began my one hour commute to work in my 1999 Honda Accord. I got there at about 6:59 a.m., sat in my cubicle, and pretended to work for an hour or two. What I was really doing was mentally preparing myself to walk into my boss's office and quit! But I wasn't just quitting this job, I was quitting corporate America. I was done with hours or traffic, 12 hour days, cubicles, and bosses. My plan was to start an SEO business out of my kitchen, in my tiny two bedroom apartment in the Ukrainian Village neighborhood of Chicago, IL.
What I'm about to show you, is something I never had. A step by step, ultimate guide on how to start a SEO business. I had to learn everything through trial and error, which took an incredible amount of time and energy. I wish someone had posted a detailed guide that would have saved me the time and money I spent learning the business side of SEO.  That being said, I'm going to tell you everything I learned starting a successful SEO business and going from making a few hundred dollars a month to making over $120,000 per month. Eventually, my SEO company was so successful a huge agency in Chicago acquired it, which is how and why I founded MySiteAuditor. But that's another story.
How I Got Customers
The first question anyone who starts a company should ask themselves is, "How do I get customers?" It's a question that I didn't have an answer to when I first got started. So, I just opened up the phone book and started cold calling businesses, literally. If you didn't have a web address next to your name and phone number I called you. That was my strategy. If your heart is starting to race and you're beginning to sweat, stop worrying. I'm not going to tell you to cold call anyone out of the phone book. Do they even make phone books anymore? Throughout the 10 years my agency was in business, and before I sold my SEO business to a big company, I developed 10 techniques on how to consistently get SEO customers.
1. I Got Ranked on Page #1 of Google
You need to become obsessed and fight like crazy to get to page #1 of Google for SEO service related keywords in your geographical area. Usually, the best keyword to target customers is "SEO" + your city. In other words, if you're starting an SEO company in Albany, New York, you should target "SEO Albany". I'm sure some of you are getting worried right now because you live in big cities where other SEO companies dominate the first page of Google. Stop worrying. While you're fighting your way to page #1 of Google for a very competitive keyword, target low hanging fruit like "SEO services Albany", "seo company Albany NY", or "Albany SEO company". The trick is that you have to be on Page #1 for something. This will give you credibility when it's time to close the deal. Not only will potential customers find you, but in sales meetings you can also point that your SEO business is on the top of page #1 of Google for "SEO company in Albany". Your potential customers have no idea which keywords are the hardest keywords to target in SEO; being on page #1 among and ahead of your SEO competitors will impress the heck out of potential customers. I can't even count the number of customers who told me they purchased our services because we were on the top of page #1 of Google, ahead of our SEO competitors.
Keep in mind that I recommend targeting bigger keywords like "SEO Albany" from day one. You'd be surprised how easy it might be to get on page #1. Many of your SEO competitors fail to do a bunch of easy SEO tactics, and instead they just rely on their domain's age and authority any that's not always enough. There is more than one way to skin a cat in SEO. Here are a few SEO tricks I did to dominate page #1 of Google for "Chicago SEO", the #1 keyword for SEO services in all of Chicago. Keep in mind, my agency's website to this day, has consistently stayed in the top two or three organic spaces in Google.
2,000 Words – Hardly anyone does this because they are super lazy or just don't know that this simple strategy works like a charm. If you're targeting "SEO Albany" on your your SEO services page, then make sure that page has at least 2,000+ well written words or more. This worked for me and the data has shown this to work as well. Check out this graph below by serpIQ. As you can see, there is a direct correlation between having more words on a page and higher rankings in Google.
Exact keyword in URL – I remember being on page #3 in Google for "Chicago SEO" for a long time, and then one day I switched my URL from "ocean19.com/seo to "ocean19.com/chicago-seo". BOOM! We jumped up like 20 spots with that simple change.
Page Optimization – Remember, Google ranks web pages in their search results, not websites. So focus on optimizing one page for one or two keywords. My secret sauce for optimizing a specific web page is published and outputted for free here on MySiteAuditor. When you run an audit and view a PDF report you can clearly see a checklist of everything I do to a web page to optimize it for a target keyword. If you're not already a customer your don't have to pay for this, just run a free audit on MySiteAuditor, then study and follow the report.
2. I Offered a Free SEO Audit Tool
According to the 2015 Form Conversion Report by Formstack, only about 1% of small contact forms (about 4 fields) get filled out on websites. That means only 1 out of 100 people that visit your SEO company's website will fill out your contact form. The other 99 will leave your website and probably never contact you for SEO services. This is a huge problem. So many potential clients who need SEO visit and leave your site forever, never having contacted you. You need a way to get way more of your visitors, and potential customers, to give you their contact information when visiting your website. As I pointed out earlier, relying on your contact form isn't good enough.
This is why I created MySiteAuditor. I had the exact same problem with my agency's website. Our traffic was decent, but our conversions stunk! MySiteAuditor is a white-label, SEO audit tool that's free for your visitors. It takes about 5 minutes to set up and add to your SEO company's website. Just upload your logo, colors, and contact information, then easily embed MySiteAuditor's SEO audit tool forms throughout your website… then wait for new SEO leads in your email inbox. Your visitors will love generating a free 9 page SEO audit of their website, as long as they enter their web address, a target keyword, and their email and phone number.
What's Your SEO Score?
Enter the URL of any landing page or blog article and see how optimized it is for one keyword or phrase.
Try it on your site. It's 100% free for 10 days. You don't need any money or a credit card.  Sorry for the pitch, but this is important. Again, I literally created MySiteAuditor because the contact forms on my agency's website were so unreliable.
3. I Gave Away Free Resources
Throughout your SEO company's website, strategically place free downloads that your visitors will love. For example, do some research on pricing in the SEO industry, create a simple one or two page report, and give it a way for free on your website as long as the visitor shares that free download first. In exchange for sharing your website with a quick click, your visitor gets a very valuable resource (with your name on it). It's a huge win for you and your visitor. Below I've listed my favorite tools for giving away a free download in exchange for sharing your site.
Works for almost any type of site
Easily install
Free and paid versions
4. I Made Strategic Partnerships
In this business you'll notice that there are many agencies who specialize in one area of digital marketing. That could be web design, mobile, social media, PPC, online PR, etc. Often times, their clients will ask them about SEO services which they don't offer. You want to partner with these agencies. Offer them a standard 10% finders fee if they send you any business. In other words, if they send you a client that you sign for $20,000, send them a check within 5 days of signing the new client for $2,000.
You can even take this a step further than your competition by creating an official letter with your signature, just to make it sound more real and official to your partners. If possible, try to deliver it by hand so you can meet your partners.
Please remember that you must take extra care of clients that come from your partners. If they're unhappy, the first person they will complain to is your partner. That's not good for future referrals.
Keep in mind that you can send partners potentials clients as well. That's a great starting point and an excellent sign of good faith. Sending a new partner a client first is a great way to help get the ball rolling. I did this before I sold my agency and it was fantastic. A few times a month I would get a couple finder's fee checks for doing practically nothing, except giving out a name and phone number to a current client.
5. I Gave Referral Rewards
People love to brag about new companies they are working with. It's a good and exciting feeling about their future. Take advantage of this. Give each new client a referral letter that offers a cash reward for sending and referring any new clients that your agency signs. This is similar to the partnership program, except I don't believe you have to pay 10%. A simple fixed amount or small percentage of the first contract is good enough.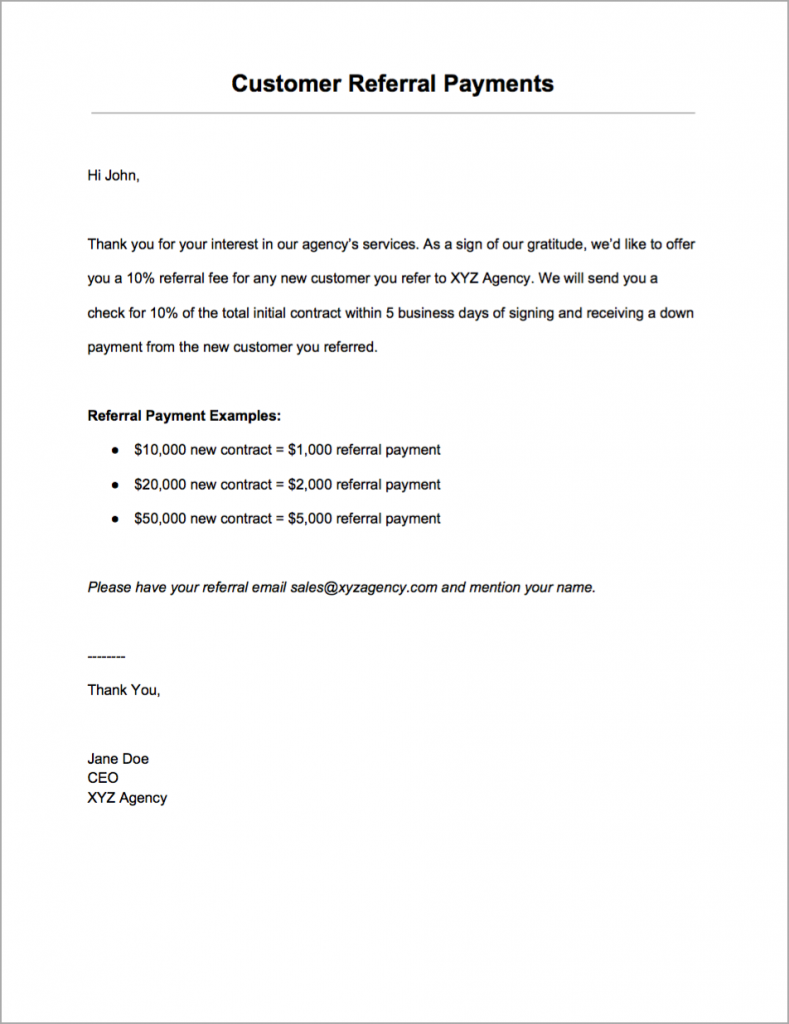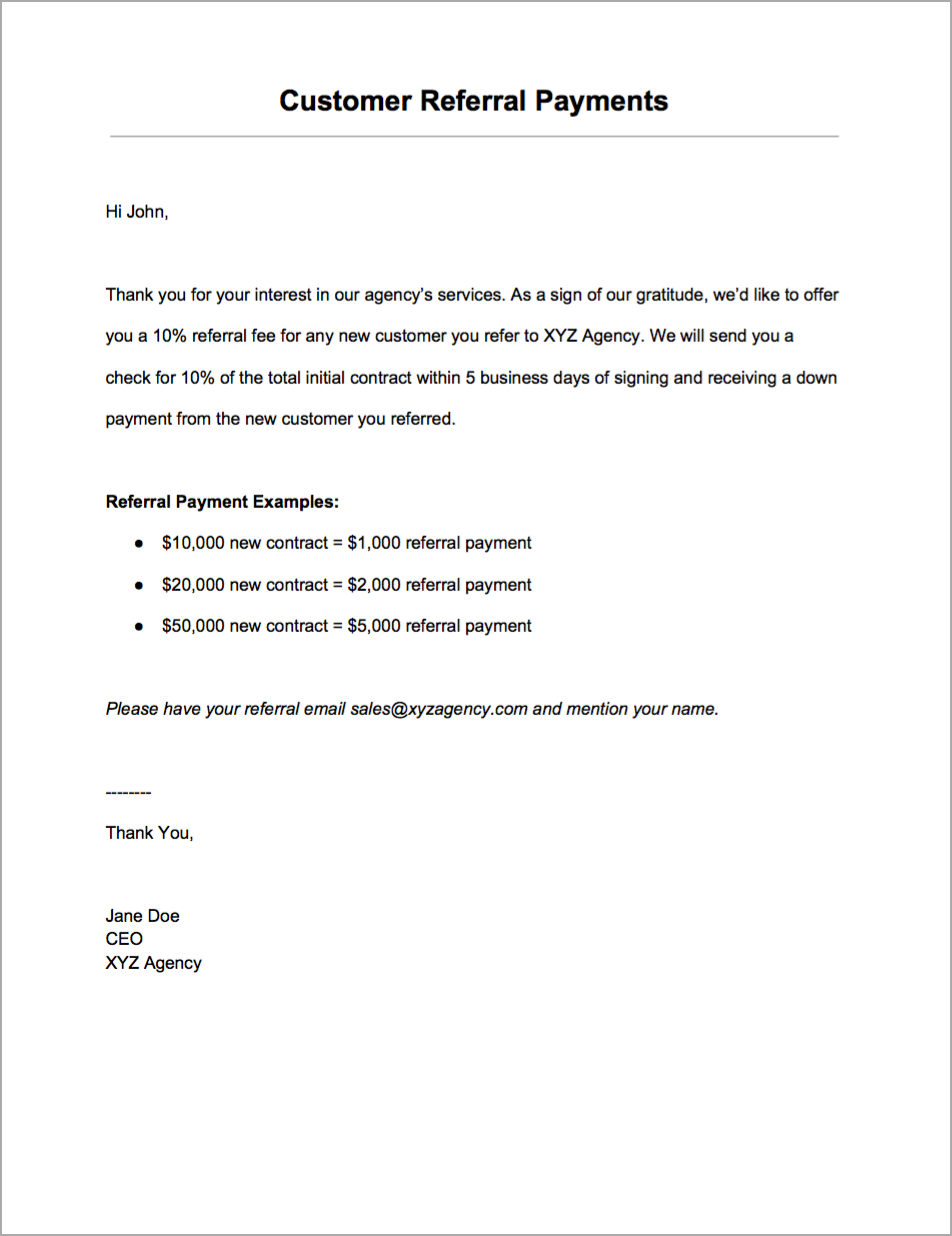 6. I Answered Questions on Quora
Before Quora existed, I was on Linkedin Answers answering questions and always trying to be helpful. One day I answered a question some random person was asking, and the recipient was so grateful they sent us a RFP (Request for Proposal). Long story short, we signed that client for $20,000 per month… just by being helpful and answering questions.
You should note that it's never a good idea to pitch your business in QA forums like Quora. Just be helpful. People will see your profile, and hopefully you've linked to your company's website so they can reach out to you for business if needed.
Takeaways:
Answer SEO related questions on Quora
When: Towards the end of each day
How long: 30 minutes (answer 1-3 questions)
Be helpful, and never pitch your services
7. I Marked My Territory
Adding a link to your site in the footer of your client's sites use to be great for SEO purposes, but not anymore. Today it's great for getting new business. Add a clause in the contract that lets you put a link to your SEO company's website in the footer of the page. When you get your client on page #1, potential clients can easily find your link and hire you to do the same for them.
My SEO company landed the business of many of the top real estate firms in Chicago simply by adding our name and link in the bottom of a small real estate agent's website we were working with. We got this guy to page #1 for "Chicago condos" and of course, all of the big real estate firms wanted to know how we did it and if we could do it for them.
Note: Use a "No Follow" tag in the link so search engines don't think you're trying to manipulate the search results with links. It should look something like the below:
<a href="YourDomain.com" rel="nofollow">Powered by: XYZ Agency</a>
Note: This clause shouldn't be mandatory. Let your customers remove it if they want. However, many won't care. You can also use it as leverage. If you're having a ton of success with a client, offer free or discounted services if you can add your link to their site.
8. I Added a Live Chat
Live Chats aren't the most annoying thing in the world anymore. They actually work really great if set up right. We used Olark for the last couple of years and sold thousands and thousand of dollars in deals because of it. With a live chat on your SEO company's website you'll get notified when a potential client is on your site. They can message you for help or you can even message them. Think about walking into store. What if you had a questions but the store had no employees on staff? Strange, right? Be in your store at all times in case a potential customer has a question. Live Chats let you do that.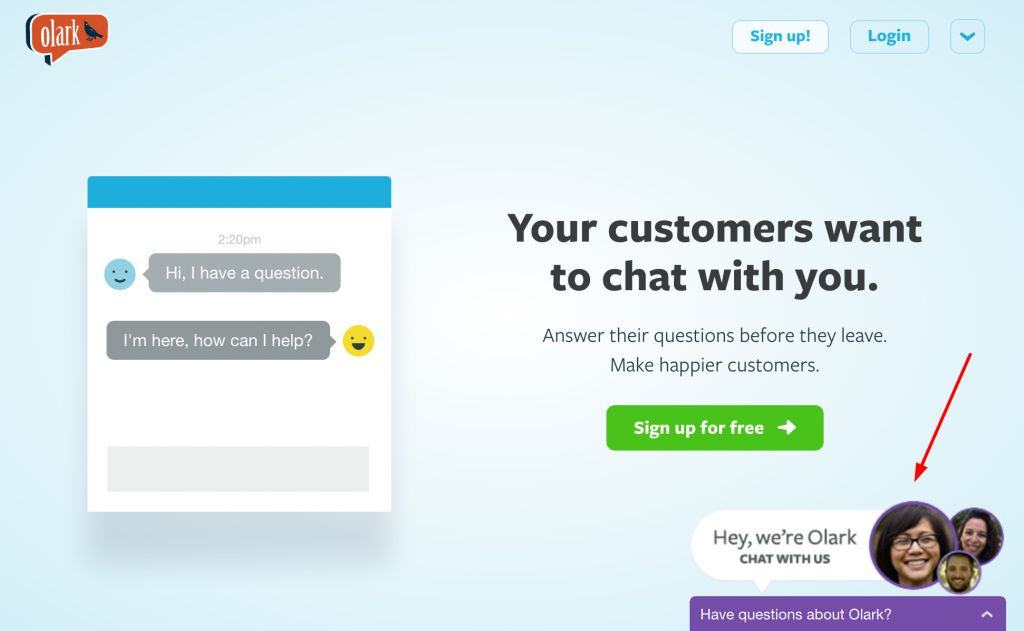 I love Olark because they let you add a profile photo of yourself in the chat window.  Transparency is huge. People want to see people they could potentially buy SEO services from.
Takeaways:
Add Live Chat (like Olark) to your website
Upload you profile photo so potential customers can see you
Be available and helpful
Test different scenarios like engaging with them first
9. I Started Offering Web Design Services
I believe SEO and web design go hand in hand. In fact SEO should be done before, after and during web design and development. If you don't offer web design and development services, you could be hurting your SEO results and losing business. When you just offer SEO consulting to a third party web design and development team, and don't do the actual SEO work, much of what you recommend could get lost in translation. Something won't get implemented properly and something won't get done at all. This will hurt results and make you look bad.
Start off by partnering with a couple local web design freelancers, then start offering web design to your SEO clients. After all, many SEO projects require an overhaul of the client's site because the development is super old and very SEO unfriendly. Once you're getting more web design business, and only when you're getting enough web design business, bring on the web designer full-time.
Do not hire a web designer too early. You need to watch your overhead. Partner on a few projects first and when it makes sense, then bring them on a full-time employee.
Takeaways:
Add a web design service page to your SEO company's website.
Partner with a couple local web design freelancers (do not hire them full time!)
Only offer a freelancer a full-time job when you have enough full-time business.
Start offering your SEO clients web design and your web design client's SEO.
10. I Outsourced Cold Emailing
Use sites like Upwork.com to find inexpensive admins that will send cold emails to your target market. This is key because cold emailing is far below your pay grade. An admin level person should be doing this, not you. If fact you can find someone in Asia or India to cold email for a couple dollars per hour.
Takeaways:
Create a short cold call email template
Hire someone for $3 per hour in Asia or India using Upwork.com
Set your geographical and industry target market (i.e.; lawyers in Mobile, Alabama)
Set your daily and weekly goals
Map every detail out for your admin. Don't rely on them to make any key decisions.
Track your progress.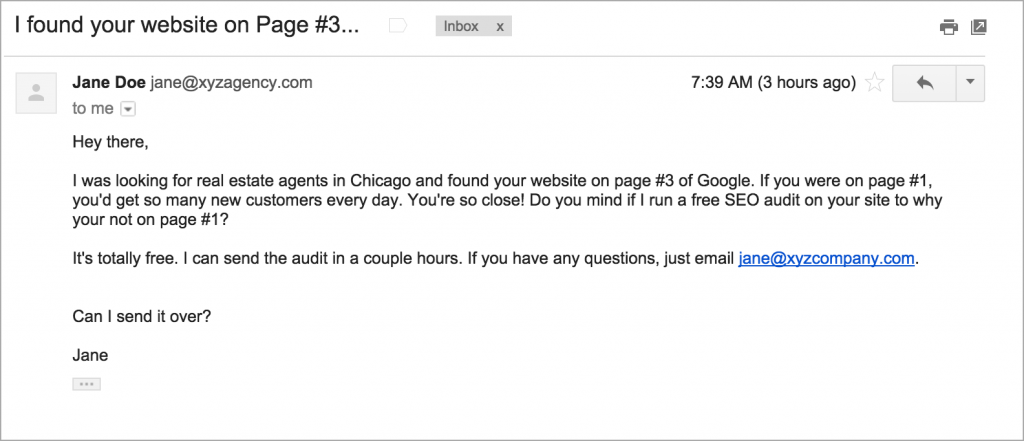 If you want a little more detail about how I got my customers. Check out the guest post I did for the HOTH, a White-label SEO service for SEO agencies.
Your Website
Your website is the hub of your SEO business. In the 10 years I ran my agency, I had at least 15 different sites. Pay attention, because I'm going to save you a lot of time, energy and AB testing by telling you exactly what worked and what didn't work. To make this easy, just remember two simple words, "clean" and "simple". Forget everything else, and ignore everything you see in web design today. Most website are terrible, even the ones created by amazing and talented graphic designers. Here's why. When a customer comes to your website they want to know three things. Who you are, what you've done and how to contact you. That's it. Everything else is bullshit. This isn't just my opinion. It's a conclusion based on analytics and years of obsessive studying and experience.
Who You Are
Transparency is huge when selling any service. People want to see and hear the person they will be working with. On the other hand, if you were selling a product like a printer, nobody would care who you were. But when you sell SEO services your potential clients want to work with people they know, like and have a relationship with. You can start that relationship on your SEO website by being super transparent. This is beyond important, and so many of your competitors won't do this. Add real-life photos of you (and members of your team) throughout your website, not just your About page. Create videos of you talking. Let potential clients see and hear you, and you will win more business than your competitors. That is a guarantee!
In my 10 years running an agency, the About Us page was the number one most visited page for us and all our service clients. Nothing else came close, not even our pages that showed previous work and case studies.
What You've Done
You're going to need a page dedicated to the success of your current or past customer successes. This is often the second most visited page on your site, next to the About Us page. If possible, ask your happy clients to whip out their iPhone and shoot a 20 second video about their experience with you. Slap that on your website and watch the leads start rolling in.
How to Contact You
Make it super easy to contact you. One thing we noticed at my agency was that the more contact forms we had, the more submissions we would get. So we added a contact form on almost every page and our conversions went way up. We also made sure our contact forms were only 4-5 to fields at most. Statistically, that gave us the most conversions. Here's a blueprint of the perfect contact form that will get the most conversions.
Capital
Quite a few people have asked me how to raise capital to start a new business. My response is always, "what for?" They usually have a blank look on their face when I ask that. The reason they often look perplexed is that most people just think you need to raise capital to start a business. We refer to those people as "wantrepreneurs", not entrepreneurs. Don't fall for this excuse.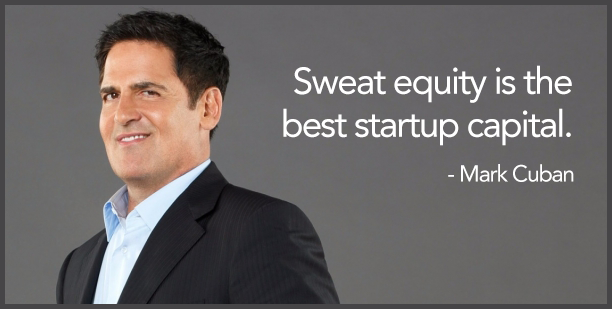 "Sweat Equity is the best start up capital" ~ Mark Cuban
Pricing
Pricing is alway a tricky topic to discuss because everyone tends to price their SEO services a little different. Pricing is based on experience and industry standards. Since there is no turn key solution, pricing tends to fluctuate a lot in the SEO industry. It's not like buying a printer or a car, so you have to be very strategic in order to get business. It's also not an industry where the lowest bid wins the client. There are many factors that come in to play.
The best way to charge a client is by charging an hourly rate; however, this can be kind of difficult when starting an SEO business. Your clients will not like paying for your learning curve, and they won't like an open ended price. Fixed pricing seems a lot safer to most clients… until you get bigger and better clients.  So, I recommend doing a combination of both an hourly rate and a fixed cost when starting an SEO business. Here's a break down:
Free
SEO Audit

– This is on your website and will get your foot in the door.

Manual Website SEO Review

– Helps you price out the entire project.

1 hour consultation

– Helps you win the business.
Fixed Costs
SEO Strategy Report

– This is a word document that lays out a 6-12 month plan of attack, based on the SEO audit, site review and consultation.

Website and Web Page Optimization

– This is making all the initial modifications to the client's website so Google can properly crawl and index the site. This is often referred to as "on-site" optimization.
Hourly Costs
Monthly SEO and Reporting – This is how many hours you're going to spend consulting, creating, reporting and optimizing content to grow your client's domain authority and improve their rankings in Google.
Whether you're doing work hourly or for a fixed rate, think about how many hours it will take you. Try to be as accurate as possible. If you think an SEO Strategy Report will take about 20 hours, then charge them a fixed rate of about 20 hours. It's up to you to stay in the time frame. Here's a breakdown of current hourly rates in the SEO industry.
Beginner (1-2 years experience) – $25 – $50 per hour
Intermediate (2-5 years experience) – $50 – $100 per hour
Advanced (5+ years experience) – $100 – $200 per hour
Contracts
Let me start this section by clarifying that I am not a lawyer. If any of this seems like legal advise, it's not. I'm just telling you my personal experience and preference with SEO contracts. Since 2003, I've used about five or six different SEO contracts. In that time, my SEO contracts grew and grew in length until they were about 30 pages. Then, about two years before I sold my SEO company, I threw my giant, colossal, and scary SEO contract in the garbage and started a fresh one, one more time. But this time I did it on my own. No lawyers. No outside advice. I just went with my gut.
The goal for my new SEO contact was three things:
Keep it simple.
Keep it short.
Keep it clear.
I got rid of all the fluff and removed 80% of the BS clauses random lawyers had added throughout the years. I got the SEO contract down to five simple pages.  I re-wrote areas of the SEO contract over and over until each area was super short, simple and clearly communicated everything we need to communicate.
Results
Business skyrocketed with my short, simple, and clear contract. In fact, I had several clients remark on how simple our SEO contract was to understand, and that's the reason they were working with us.
Think about it. The longer the contract the longer the decision process. Why make things complicated for your clients? Why make them think harder about whether or not they want to work with you. Again, I'm not an attorney, but shorter, simpler, and clearer contracts close way more deals.
Sample Contract Template
I hope you didn't think I was going to do all this talking about how great my SEO contracts are without giving you a sample template. My SEO contract template is totally free, but you have to share this article before downloading it. It should only take you 5-10 seconds to do this. Current clients can just login to their dashboard and click on "Free downloads" in the footer. You can also download the contract for free, just by sharing this blog post. Share using the link below and your free SEO contract template will instantly appear.

[sociallocker id="5180″] Click here to download your free SEO Contract! [/sociallocker]
Software and Tools
Be prepared to get slammed and inundated with tools and software in this industry. They are everywhere. Hopefully I can save you some time and energy by listing all the tools I used while running my SEO business.
How to Resign SEO Clients
I wrote a long, in-depth article about this already, so I will highlight the points here. Re-signing an SEO client is about 10 times cheaper than finding a new one, so I would really focus on this. There are five easy steps to re-signing an SEO client:
Step 1: Show clients the slope of SEO
The Slope of SEO is a graph that prepares SEO clients for the time it takes to get results. This graphs helps manage their expectations leading to more trust and continued business.
Step 2: Show Clients the Content
Despite what your competitors are doing and despite what you've read and may have been doing for the past few years, SEO is not just tweaking, optimizing and link building. It's optimizing and mostly link earning. Earning links to your client's site is more natural and safer. you can earn links by creating amazing content that your client's target market would love to read and share. Here are a few examples:
Videos
Interviews
Infographics
Charts and graphs
Blog posts
Free downloads
Step 3: Incentivize Account Managers
Once you grow a little bit you're going to want to hire account managers. These are the people who work directly with your clients, making sure the work gets done and properly reported. It's important that these people aren't just given a salary. Like sales people, and everyone else in your office, they should be incentivized with commission and bonuses when they re-sign an existing client. Incentivizing account managers subconsciously pushes them to go above and beyond making your clients happy.
Step 4 Develop Next Phase Strategy Briefs
When you client's contract expires develop a clear strategy brief of things you want to do during the next contract. Make sure you have a clear list of the amazing content you want to create. Excited clients re-sign contracts!
Step 5: Schedule End of Contract Meetings
A couple weeks before an SEO contract expires hold a face-to-face meeting to discuss the success of the the contract and the above Next Phase Strategy Brief. After all, SEO, web design and all of digital marketing never ends. There is no finish line. It's an ongoing process.
Hiring
There are two areas of hiring I'm going to focus on. These two key pieces of advice helped make my agency valuable enough to be acquired by another bigger agency.
Contract to Hire
The first thing you need to know is that there are unlimited freelancers and contractors in the digital marketing industry. You can find local freelancers or remote contractors everywhere. That being said, grow your SEO company by hiring freelancers first. Find a freelancer that you'd like to work with and hire them for your different projects. Pay them only when you get paid. You never want to pay your freelancers before you get paid. Maintaining positive cash flow is very important to keeping your business running. Only hire your freelancer or contractor when you have steady business for them.  That could be after a few months or even years. There's no need or reason to commit a salary to anyone until you are ready, and it's totally OK if you're never ready.
The Assistant
I truly belive the assistant should be your first hire. You are the most valuable person in your company and you always will be. Your time is priceless, literally. What you're going to find out is that 80% of your time is going to be bogged down by B.S. admin work that anyone can do. Following up, contracts, emailing customers, being on the phone and much more that you probably don't even realize.
Your time needs to be dedicated to what you do best, getting SEO results.  Trust me on this. Don't waste your valuable time on things anyone can do. The person you hire as your assistant should be a entry level person, looking to get into the industry. This is the perfect job for them. They can assist you for a couple years, then when they get experience and knowledge of the industry you can move them into a more important position, like doing some of the things you do. After all, they've shadowed you for years. They must have learned a lot.
Incorporating
Again, I'm not an attorney, but this is what I did. I waited a few months before creating an LLC for my business. I made a little money first, then incorporated. The reason I did this is because incorporating costs money. In Illinois it's about $500-$600, plus $250 per year. No need to waste that money if you never get business. I asked my accountant, Gaurang Patel of Southloop CPA in Chicago, IL, about this. Here's what he said:
When you start an SEO Business, you should consider setting a legal entity as soon as possible. A Legal structure as you may know is important for legal purposes. In additional to the legal benefits, it may also help you save on Taxes. Setting a legal entity early also helps develop a track record for the business and is helpful when you decide to sell the business at a future time.

The Limited Liability Company and Corporation are the 2 most common legal structures. A Limited Liability Company (LLC) is a hybrid business entity having certain characteristics of both a corporation and a partnership. The primary characteristic an LLC shares with a corporation is limited liability, and the primary characteristic it shares with a partnership is the availability of a pass through income taxation. Corporate tax rates are typically higher than tax rates at the personal level, therefore having income taxed at the personal level may help save on taxes. A Corporation is an independent legal entity owned by shareholders. Corporations are more complex than other legal entities because they tend to have costly administrative fees and complex tax and legal requirements. Because of these issues, corporations are generally suggested for established and larger companies.

There are both advantages and disadvantages to each of the legal entities and therefore it is important that you speak with a lawyer or accountant to figure out the best structure for your specific needs.

~ Gaurang
Education
Here's a critical piece of advice. Always stay a student of the SEO industry. Read blogs, case studies, and everything the big search engines like Google release. So many people stop studying after a couple years. They think they know it all. Those same people soon go out of business. Here are a few good resources to stay educated.
Conclusion
I'll do my best to monitor this article very closely. So, if you post any questions below, I'll try to answer them as quickly as possible.  If needed, I may even update this article over time. Anyways, I hope this was helpful. Be sure to checkout our free resources page. You might find a few helpful items in there.  Thanks for reading and good luck!