Latest posts by Marvin Russell
(see all)
Every SEO professional dreads this seemingly unpreventable conversation. It's about 3-4 months into your client's SEO campaign, and deep down inside you can sense it coming. Then, the phone rings. It's your client and they want to "talk". They are worried, and overly anxious about the campaign's progress. They've already forgotten everything you've told them about time and progress. They want results, and they want them today!
The Solution:
This graph should serve as a reminder to your clients that SEO doesn't happen overnight, in a week, or in a couple months. It takes time. Your client must commit and have faith; otherwise, the campaign is doomed. So, from now on add the below graph to your contracts, or at least have it available sales meetings, because managing your clients expectations is Agency 101.
The Slope of SEO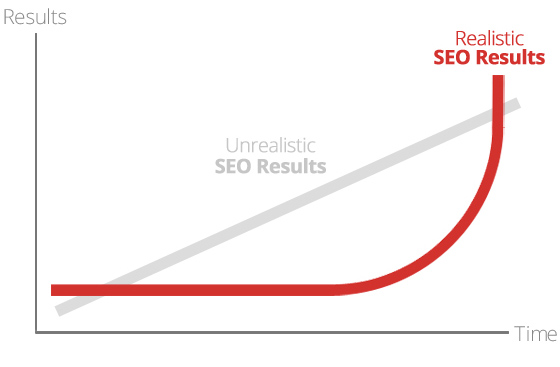 Notice the above line graphs show what your clients may interpret to be unrealistic SEO results and realistic SEO results over time. The next time that dreadful conversation arises, you can simply remind and show your client this graph, unless of course ….they never even bring it up (wink).
Conclusion
Obviously there are many things you can do to better manage you client's expectations. But visuals always seem to sink in and work the best. So use this "Slope of SEO" graph as often as you can so you can not only sign new clients, but resign them as well.