Latest posts by Marvin Russell
(see all)
Last night I attended "SEO for Startups: Best Practices", an SEO event organized by Stella Fayman and Tim Jahn of Entrepreneurs Unplugged. I must say the event was pretty damn good. The Chopin Theatre was the perfect venue. I loved the decor and the atmosphere. I'm a little embarrassed to say that I had never been in that theatre before having lived and worked about a block away for 2 years.
Stella and Tim picked three perfect speakers for the event to discuss SEO for startups and new businesses. All three speakers were entrepreneurs, from Chicago, and true SEO veterans.


Rod Holmes
Partner at Chicago Style SEO
Rod comes off as a very likable and trustworthy guy. Maybe that's why he's a partner and head of sales at Chicago Style SEO. Might I add that ChicagostyleSEO.com is #1 in Google for "Chicago SEO".
1. Reluctant Entrepreneur
The first thing that struck me about Rod's speech was when he referred to himself as a "reluctant entrepreneur". I've never used that expression before. As an entrepreneur, we're ironically taught that failure is good, healthy, and experienced by every real entrepreneur. I guess that's why I liked the term "reluctant entrepreneur". Rod was just being honest, and he was right. Who wants to have to start over and over?
2. Privacy Policy helps Onsite Optimization
From an SEO perspective I must say that I knew most of what Rod discussed, but it was great hearing matching views from a fellow SEO. However, there is one particular SEO strategy that Rod mentioned I had never head of. Adding a "Privacy Policy" for onsite optimization. Rod says this gives you credibility in the eyes of Google. Very interesting. Comment below if you can add any insight to this tactic.
3. Buying Funnel Compared to Long-tail Keywords
The other thing I took away from Rod's speech was the similarity between the buying funnel and how long-tail keywords convert into purchases. The left shows users who search Google using long-tail keywords (longer towards the bottom) and are closer to buying. Interesting. I may have to use this in future SEO sales meetings.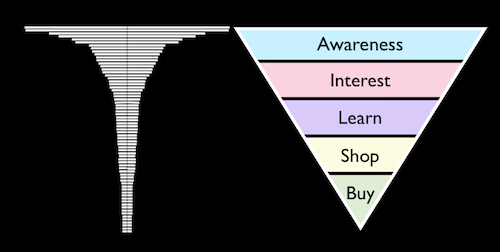 Dan Olson
CEO of UpCity
Dan seemed like a "young" and smart guy. After all, he is the CEO of a very successful SEO company who received 4 million in funding. Pretty impressive, especially since I had never heard of UpCity, so I thought. UpCity was formally known as DIY SEO.
4. 10% Idea and 90% Execution
Dan said something very interesting. "Entrepreneurship is 10% idea and 90% execution." It wasn't interesting because I had had similar thoughts. I just never communicated those thoughts in that way. Well said Dan. I may have to borrow that.
5. Authority, Authority, Authority
Dan preached and preached about authority in SEO and link building. A big part of ranking high in search engines today is who links to you and how authoritative their website or specific web page is. The bigger and more trusted sites that link to you the better. In other words, a link from cnn.com is much more valuable in the eyes of Google than a link from your local news station. Although a link from you local news station is still very valuable:)


Brent Payne
CEO of Loud Interactive
Brent was probably the best speaker of the night, even though everyone was great. I'm embarrassed to say that I was not familiar with Brent or his background. After doing 5 minutes of research in Google when I got home, I could see how popular he is in the SEO world. From speaking events, to being in charge of all Social and SEO at the Tribune company, Brent is a very "seasoned" SEO expert.
6. "People don't search the internet"
The first thing I took away from Brent was that "people don't search the internet". He was right. People don't search the internet. People search what Google has found on the internet, and in order for Google to find a new web page, blog post, or ecommerce product you just launched they have to crawl your website pretty regularly. In other words, Google may only crawl your website for new content every few hours or every few days. But they may crawl websites with higher authority every few minutes. Thus making it easier for websites with higher authority to get new content indexed and ranked much quicker.
7. Low CTR Affects SEO
I guess I wasn't 100% positive about this SEO "theory". But I am a little more sold now that a top SEO like Brent is backing it. Brent says that rankings are affected by click through rates. In other words, Google gets worried when people don't want to click on your website in the SERPs. Google also has a similar concern with bounce rate. They worry that if people click on your website and immediately leave or "bounce" from your website, you're probably providing them with poor or irrelevant content. Both CTR and bounce rate can affect rankings, according to Brent. So, be sure to keep an eye on both in your analytics
8. Consolidate Your Content
The last thing I took away from Brent's speech was the importance of consolidating your content. Often times there are dead pages that don't get viewed anymore on your website, or maybe there's too many web pages on your website discussing the same topic. Consolidating your content means taking all those web pages and pointing it to your most popular web page that discusses that particular topic. This will harnesses the power of those web pages into one web page.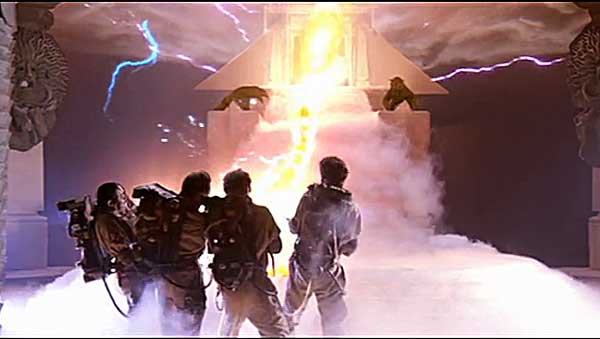 What Did You Takeaway?
If you attended the event I would love to hear your takeaways as well. Please leave them below. Till next time:)