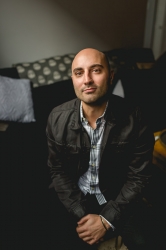 Latest posts by Niko Vergis
(see all)
Jeff Hall is the co-founder of Overflow Cafe SEO and a long-time user of MySiteAuditor. In this post, we've invited Jeff to talk about how he uses MySiteAuditor to grow his SEO agency.
I co-founded Overflow Cafe at the age of 15. Growing up in a poor and dysfunctional family that was on welfare, the idea of starting a business was scary, but my love of helping clients reach their business goals has always driven me forward.
Like many in this business, Overflow Cafe started out doing web design and SEO. Our websites were just as good as any other company, our consulting was just as good as any other companies, but our clients found that we were better at website-marketing than other companies they were used to. This is why, today, Overflow Cafe doesn't design websites. We only make them popular using SEO.
Until 2007, we were also similar to most SEO agencies in terms of fee structure: a big fat setup fee, and a triple digit monthly fee with an annual contract. But we regularly surveyed our customers and found that everyone hates setup fees and long term contracts, especially small business owners and people starting out. So we set out to do something risky, we invested 6 figures into automating as much of our work as possible, thus eliminating the need for a setup fee, lowering our monthly fee to where a new or small business owner could afford it and also removing the annual contract.
Although the lack of an annual contract could have hurt our retention, we've actually found that this strategy has helped grow our business. A main reason why is MySiteAuditor's audits: they show the client exactly how much work needs to be done, so they know that SEO isn't an overnight process. This way, we develop longer, ongoing relationships with our clients.
We've also done things a bit differently in terms of marketing ourselves as an agency. For example, we once gave away 3,000 totally-free 1 year accounts. This was hugely risk: we were going to provide service to these people for an entire year for (potentially) no money. But, as I'd hoped, it worked out. In exchange for the free accounts, we received some great, positive press and some new referrals. We also converted some of these users to paid services.
Notwithstanding the free giveaway, our company has grown mostly through traditional means like word of mouth, direct marketing, and making as many customers as happy as possible. We can't make every customer happy, but we try our hardest for everyone! In the old days, we used to go door to door and that helped a lot, and telesales in the early 00's was fantastic for us as well. That said, we continue to give free accounts to single parents starting businesses and Canadian and American troops coming back from duty who are starting a new business.
Of course, our final secret weapon for growth has been MySiteAuditor. We use MySiteAuditor's embedded audit tool to convert website visitors into leads. And we use MySiteAuditor's audit dashboard to generate audits on a regular basis for our clients — showing them what we've been able to accomplish and what more there is to do! In short, MySiteAuditor has helped us to generate new business, retain our current clients much longer and — most importantly — rank our clients #1 for many of their important keywords.
SEO is a huge business. There's plenty of opportunity for good hard working people. So, if you're starting a new SEO agency (or thinking of starting one), I hope my story helps make your venture as successful as mine!