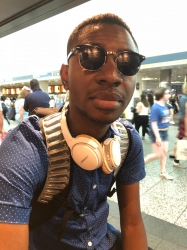 Latest posts by Andre Harris
(see all)
When providing top notch SEO services, you might be overwhelmed by the amount of tools to choose from. It can become costly, very quick. Whether, you're starting to provide SEO services or have aspirations to own a big agency; we wanted to provide you with a low cost solution starter kit, to kick start your services. Below are 15 top notch tools to help close deals, report on clients, accounting, and having overall organization over your clients.
A service that lets you Spy on any site. It'll display the keyword ranking, SEO keywords and tons of other information related to the website you want to get more information on, making it very useful for competitor research. This tool can help improve your sales operations with information that's been gathered from your competitors, allowing you to see what works for them and implement your own version of the competitors services.
Hands down the best open source CMS for hosting any website. It can be designed and added to as needed. Offering tons of plugins to help your SEO business grow or leveraging great SEO on your clients' site. Having a well built website is the foundation is the very first step to starting your business.
A simple checklist tool to keep track of all your tasks to tackle for a project. It Allows you to create private checklists, share your private checklist, and even use one of the many 'public' lists. A fantastic and affordable tool for keeping tasks organized, creating processes and procedures that your team can work together on.
One of the absolute best SEO plugins for WordPress, this plugin integrates into the dashboard of WordPress to help ensure your content is using correct SEO practices. As an SEO services provider, we highly recommend installing this plugin into your clients' site to help streamline your SEO implementation. It will show you an actual 'green light' when your page is all set for search engines to read. (Yes, we recommend Installing this on your website too!)
Another great WordPress plugin that allows you to optimize the SEO metadata in WordPress posts and set manual values for the posts and pages. It'll give more control over how you implement your SEO strategy across the entire site. This will help ensure a higher quality of SEO implementation in the blog posts and page content.
We all need to invoice clients somehow, or even pay an employee as you grow. Paydirt is a simple and useful application for freelancers and startups to help track their time and manage employees/contractors on your team. When starting a business, we also have to wear other hats in the business including your accounting/HR hat. This streamlines, invoice creation, payment setup, payouts, money management, and overall making sure your clients pay you on time.
A simple lead generation tool to embed on your site. It'll help you warm up a visitor to your site by providing a Free SEO Report on their site. You then collect their contact information, manage, follow up and pitch your services to the leads you've captured. You can also take a proactive approach by running audits inside the dashboard and prospect new clients with them.
This service will aid you in getting user feedback, follow user behavior, and view trends on how users interact with your clients site. You can then use that data to pinpoint improvements for better usability and CRO.  The potential of this tool is incredible and is an absolute MySiteAuditor favorite. At the end of the day, if you listen to your clients/ visitors/customers and implement a strategy around Hotjar results, you'll drive more traffic and make more sales for your clients. Clients will love you forever.
Google Trends is great for helping trace keyword trends and to provide keyword suggestions for your clients SEO campaign. Being able to have a breakdown of the most popular searches, on the most popular search engine, right at your fingertips will make a big difference in the way you execute content for your clients. This should be a bookmarked tool for all digital marketers.
Finding the right keyword can be a bit daunting. Google keyword tool can help you get started with clients keyword search and create a very strong list to start with. It also has an autocomplete function to find relevant keywords for a topic. You'll find this useful to drive decisions and predict what keywords will be useful in the future for your clients.
A chrome extension that works in conjunction with search engines, to provide relevant keywords and other metrics. It's 100% live and in real-time it'll show you, search volume, CPC and competition data. This will add the additional layer onto your keyword research to make it so much better. It's a great way to quickly help add to your keyword research list.
A wonderful tool that allows you to input keywords and receive phrases that will help generate catchy titles and word combinations for your content creation process. Adding this to your content strategy for clients, will be enough to optimize the keyword usage and bring your writing skills to the next level.