Latest posts by Marvin Russell
(see all)
The most important website trend in 2014 is transparency. If you have a website today transparency can really make or break your success. Transparency affects traffic, conversions, and sales. I've run The Ocean Agency for the last 10 years, and the one thing I find myself encouraging our clients to do more and more often is be more transparent. But it's not easy; our clients need our help. So, in addition to listing the reasons why it's so important be transparent on your website, I've also listed a number of ways to be more transparent.
Why is being transparent on your website so important?
The simple answer is trust. There is so much spam online, and so many people running scams that people often have to rely on their gut or natural instincts when making a safe purchase decision online. So help yourself by helping your visitors feel safe.
Transparency makes your visitors feel safe

People buy from people
There is so much spam online
Improves rankings (higher engagement, lowers bounce rates, improves length of time on site)

Increases conversions

Increase sales
How to be more transparent
Add a company page (I know…duh!)

Add images to your company page (let your visitors see you)
Add team video. Let your visitors see and hear you and your team
Photos or video of your office. Let your visitors see where you work and what your offices look like.
Don't hide your phone number. This is a huge red flag.
Integrate your social media accounts
Show customer reviews and testimonials
Embed a Google map of your office
Show a photo and the name of your sales person on the sales or contact page
Don't use stock photos of people in offices. Instead take real photos of your people in your offices.
If you sell services, then describe your process
If you sell products, then show how they get made
Proof of transparency power
For years we thought our portfolio page was the most important page on our site. Well, we were wrong. As you can see, our visitors are more interested in who will be performing the work they see in our portfolio.
Our top pages visited in 2013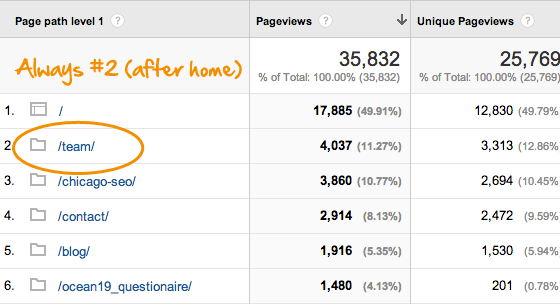 Interaction flow chart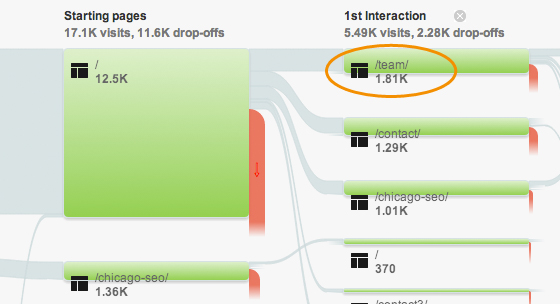 Conclusion
It's real simple folks. If your website has a 1% conversion rate, then the easiest way to double your sales is to get your conversion rate to 2%. Being more transparent on your website may be that tipping point that increases your conversion rates by double, triple or even quadruple. Always remember, people buy from people. Be transparent.