Latest posts by Marvin Russell
(see all)
I guarantee that you will close more SEO deals if you follow this super simple SEO sales meeting tip. Keep in mind, I have done this for over 10 years, and my agency has generated millions in SEO sales. This is one of my super secrets that helped us dramatically increase our closing rate in sales meetings. It doesn't matter if you sell SEO, CRO, web design, or online PR; this simple sales meeting tip is worth millions in potential revenue.
Here's the 1 thing…
In your sales meetings, don't just tell your prospective clients how you intend to improve their traffic, SEO, or rankings. SHOW THEM. Do a few minutes of research on their site and find a landing page they are trying to rank for. This is usually a home page, service page, or a product page. Generate an SEO audit of a specific landing page on your potential client's site, compared to a competitor landing page that is ranking much higher, for the same targeted keyword or phrase. This should be a side-by-side comparison so it's very easy to see everything their competitor is doing differently. Spend about 5 or 6 minutes reviewing the audit line by line. You should be saying something like, "this is what they do, this is what you do, this is what they do, this is what you do…". If you do this, you will impress the hell out of your potential client, and I guarantee it will dramatically increase the chances of your closing that deal.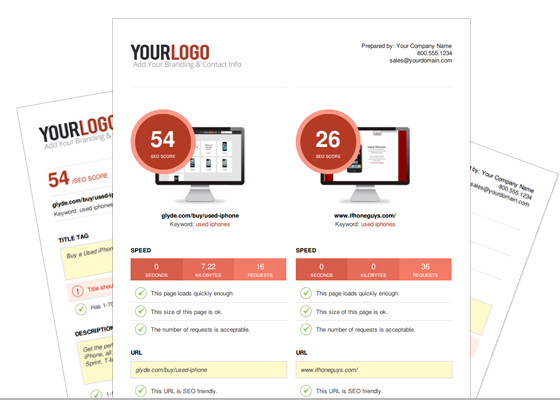 Click here to view a sample competitor audit
To recap:
Find a landing page on your prospective client's site along with a keyword or phrase they are targeting.
Do a search in Google for a high ranking competitor using that exact same keyword or phrase.
Run a comparison audit.
Walk them through the comparison audit in your sales meeting. Show them what the competitor does, and what they do.
Here's a quick video explanation:
How to generate a comparison SEO audit in 45 seconds:
This is one of the reasons we created MySiteAuditor: to help digital marketing, SEO, web design, and online PR companies dramatically increase sales.
1. Simply login to your dashboard at MySiteAuditor.com
2. Click on "Audit a web page"
3. Enter your client's landing page URL and the high ranking competitor's landing page URL
4. Enter the keyword or phrase they are targeting
5. Wait 45 seconds and download
Click here to view a sample competitor audit
Please note that you can add your logo and branding to all of your audits. It's totally free (no credit card required) for seven days; but after that there is a small fee of $29.00 per month.
Conclusion
I hope you don't look at this article as just a simple sales pitch to sign up for MySiteAuditor. I have been in the SEO business for over 10 years, and we built this tool because it took way too long for the people in our agency to manually create an audit by hand. After creating this tool, we instantly saw dramatic success. So, we decided to help everyone in our industry experience the same success by building MySiteAuditor.com, and offering it at a super low and affordable rate.
Thanks and good luck 🙂