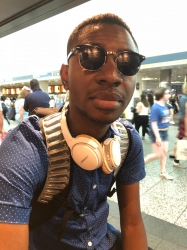 Latest posts by Andre Harris
(see all)
Search engine optimization (SEO) is valuable for most brands but even more so for e-commerce businesses. These companies live and die on their ability to generate organic search engine traffic. 
Unfortunately, success in this area is challenging. Many firms fail to gain the traction they need in search results. 
Statistics reveal how critical it is to perform well in SEO. Forty-four percent of people start online shopping with a search engine, and 75 percent never scroll past the first page of results. To make matters worse, 45 percent of all e-commerce traffic comes through Google, with limited (and highly competitive) opportunities elsewhere. 
So what can you do about this? Well, it turns out that the answer is "a lot." 
Nailing your SEO helps you attract leads and turn them into high-value conversions. But what do you need to do precisely? 
That's what you're about to discover. This page explores what SEO is in an e-commerce context, why it's important, its benefits, and some best practices you need to know to get ahead of 99 percent of the competition. 
What Is SEO for E-Commerce?
SEO for e-commerce is the practice of performing various on- and off-site activities designed to improve your ranking on search engine results pages (SERPs) for commercially relevant keywords. Ideally, you want to rank as high as possible to maximize visibility for your store.
SEO for e-commerce involves dozens of activities to help you achieve this goal. These include: 
Keyword research

: Discovering which keywords your customers use so you know which to target. 

On-page optimization

: Tailoring individual pages to meet your SEO objectives, including adding meta descriptions, image alt text, HTML elements, and optimizing for keywords. 

Product descriptions

: Writing unique content, telling customers and search engines what you sell to improve relevance. 

User experience:

Creating a user-friendly and easy-to-navigate website that encourages users to stay and spend money. 

Optimized images and videos:

Adding beautiful pictures, videos, and other rich media to drive site engagement and dwell time. 
Other items include e-commerce-specific schema markup, ongoing monitoring, analysis to see what works, and technical SEO (improving page speed and loading times). 
Given the comprehensiveness of SEO, most brands hire professionals to do it for them. Agencies and freelancers have the required skills to make rapid progress. 
Why is SEO for E-Commerce important?
SEO is essential for e-commerce for various reasons. It drives higher revenue, makes marketing campaigns more targeted, and helps companies discover who their website users are and how to craft sites that address their needs. 
SEO is also essential for improving trust. If users see your site at the top of search results for a particular keyword, they are more likely to click through to your product pages. Research shows that a whopping 95 percent of search traffic goes to the first page of results. 
Benefits of SEO for E-commerce Businesses
So, what are the four big benefits of SEO for e-commerce businesses?
1. Increased Visibility and Traffic
The main benefit of investing in SEO is increased visibility, brand awareness, and traffic. Companies that optimize their sites for speed, keywords, content, and backlinks rank higher and get more clicks from prospective customers. 
According to industry data: 
32.5 percent of users click on the first link

17.6 percent click on the second link

11.4 percent click on the third link

6.1 percent click on the fifth link

2.4% percent click on the tenth link
As such, the gains from rising through the ranks on page one are non-linear. The incentive to up-rank becomes progressively larger as you move higher in search engine page results, with the top position offering the highest click-through rate. 
2. Better User Experience
SEO also enhances the user experience, encouraging them to return for more. Search engine-optimized pages load faster, navigate easier, and are friendlier to mobile users. 
The ranking benefits are considerable, too, according to Google. Brands that reduce the time it takes for elements to load and improve responsiveness to button clicks may receive a boost. 
3. Improved Credibility and Trust
Another benefit of e-commerce SEO is improved credibility and trust. Ecommerce data suggests that 51 percent of users routinely view websites that appear in organic results as more trustworthy than those appearing in the form of PPC ads. 
The reason is simple: ranking high organically is challenging. Only a tiny fraction of brands achieve it. PPC ad placements are more straightforward and don't require establishing a track record of quality first. 
4. Increased Sales and Revenue
Finally, e-commerce SEO improves sales and revenue. Companies that regularly target organic customers using commercial intent keywords are more likely to convert. 
Research shows that paid traffic has a 35 percent higher conversion rate for e-commerce than organic. But when you look at the total cost, boosting organic traffic is cheaper per lead, helping to improve sales and revenue even more. 
E-Commerce SEO Best Practices
So far, we've discussed what e-commerce SEO is and the benefits you can expect by using it. But how do you put it into practice? 
That's the topic of this section. We explore some of the leading needle-moving things you can do to supercharge your results and rank higher in SERPs. 
Perform Keyword Research the Right Way
The first step is to perform keyword research the right way. 
Don't be a brand that chooses a random pillar keyword, filters it through Google Keyword Planner, and believes it has done everything it needs to do. 
You must be more specific. 
The trick here is to go broad and deep. Choose various keywords based on what your audience is typing into Google search and what your competitors are already using. 
Then, look for untargeted long-tail keywords. Ideally, you want keywords with two or more separate words with high volume but low competitiveness (as indicated by the keyword planning tool you use). 
High-volume searches indicate an interested or engaged audience. Low competition means you are much more likely to rank on page one for the keyword.
Use Ubersuggest and AnswerThePublic for SEO E-Commerce Research
Another best practice is to use Ubersuggest and AnswerThePublic for e-commerce SEO research. These tools help you gain insight into long-tail keywords your audience is using. 
For instance, AnswerThePublic provides detailed insights on questions leads are asking related to any keyword. 
Here's an example of the tool's output for the keyword "bike pump":

AnswerThePublic tells you the keyword's search volume – which is good in this case – and the cost (or competitiveness). 
It also provides a question wheel with search intensity indicators for each question, showing you which you need to answer first.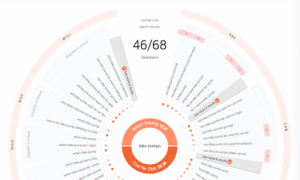 You can use these questions as the basis for website content, such as FAQ pages, blogs, and videos. 
Don't Neglect Category Page Optimization
Paying attention to your category page optimization is another e-commerce SEO best practice. These pages serve an essential technical function, making your site easier for search engines to crawl and index. Poor SEO on these may mean your pages perform badly for generic keyword searches, and your users may not find relevant products. 
Ideally, treat your category pages as individual home pages with relevant keywords and content. This approach often helps them rank higher. 
For example, you could build your category page around "bike pumps," as this popular online bicycle store does: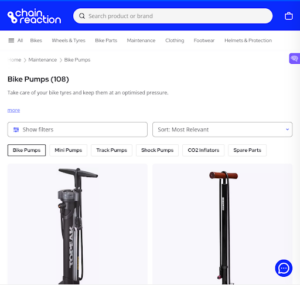 The more organized you can make products on your site, and the more copy you can include on each page, the more likely search engines will find and identify them. 
You can add category-level navigation throughout your site, too. It helps customers find what they want and makes your site easier to crawl. 
Optimize Product Pages to Improve Ranking
You should also optimize your product pages individually to improve their ranking. To do this:-
Use high-quality images of all your products that show a true likeness

Include plenty of descriptive, keyword-rich, naturally-written commentary

Add specifications and bullet points, providing users with essential takeaways

Create unique and compelling product titles

Make pricing and any offers clear and concise

Add user-generated content, such as reviews, to your product pages

Add any relevant security or trust badges to your product pages for authority

Create more customer-focused content, answering common questions and concerns

Include social sharing buttons so site visitors can share products they like on social media

Include a "related products" tab or carousel to encourage additional purchases

Add a compelling call-to-action 
Think About EAT Guidelines
Thinking about (and acting on) EAT guidelines is another helpful SEO strategy for e-commerce stores. Expertise, Authoritativeness, and Trustworthiness embody various website ranking factors in Google's search algorithm.
But what does this mean in practice for e-commerce stores? 
Pretty simple. A shopping page with minimal customer service information would score low on EAT because it wouldn't be trustworthy. 
Meanwhile, a shopping page with high EAT might:-
Offer secure payment gateways and proper encryption to keep customers' data safe

Have credible backlinks linking to ti

Showcase expertise in a specific product or category

Offer high-quality, informative, and accurate content that provides users with relevant information about products

Provide shipping information, contact details, and a returns address

Regularly update content

Be transparent about company policy and terms of service
Note that EAT isn't a ranking factor in itself. Instead, it is a framework Google provides to guide corporate decision-making. 
SEO professionals don't target EAT directly but keep it in the background as a compass for all their activities.
Write Share-Worthy Blog Content
You should also write share-worthy blog content for your audience. Providing customers with valuable information contributes to your business's SEO success by raising authority and driving more traffic to your site. 
Sharable content should be:-
Relevant to the people who consume it

Offer something unique or original users can't find elsewhere

Provide information or instructions that solve specific problems

Written in an engaging tone without too much technical jargon unless appropriate

Titled in a compelling way that encourages users to read more

Include social sharing buttons so users can quickly link your articles across platforms
Make Sure Your Site Is User Friendly
Another e-commerce SEO tip is to make your site user-friendly. First-time website visitors shouldn't struggle to find their way around. 
You can test your site's user-friendliness by comparing it to your competitors. Comparing pages side-by-side can reveal your strengths and weaknesses, directing you toward what you need to work on next. 
You also want to ensure a responsive design that works seamlessly across desktop and mobile devices. Users shouldn't feel frustrated using it. 
Fortunately, Google has a mobile-friendliness checker tool you can use to find out immediately. Enter your site's URL into the box and press enter to get a page of results and analysis.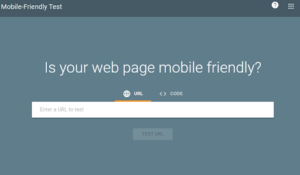 You can also test your rivals' pages to see how they perform on this test. Google provides a detailed breakdown of where pages fail, showing you targets for improvement. 
Don't Forget Long-Tail Keywords
Another strategy is to include long-tail keywords in your site copy. Google search suggestions are one of the best ways to do this. 
For instance, suppose your customers are searching for new bike pumps. Google's suggestions box will show you related searches for that specific keyword as follows:-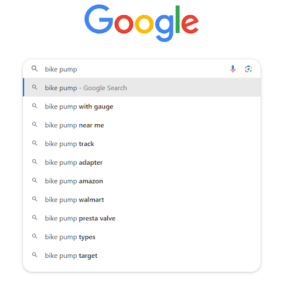 All you need to do is pick the product-based keywords relevant to you. "Bike pump near me," "bike pump with gauge," and "bike pump presta valve" are all excellent options. 
Use a Simple URL Structure
You can also improve e-commerce SEO by optimizing your site's URL structure. Adding keywords and making URL descriptors relevant to pages helps with crawling. 
For example, add category, subcategory, and product keywords to your URL. 
Here's an example of a brand that sells bike pumps doing this in practice:

When creating keyword-related URLs, avoid using filler words like "and" and "of". Instead, keep your URLs short (preferably less than 60 characters) and to the point. 
Use Schema Markups to Help Google and Users Understand Content
You can also use schema markups to help Google and users understand your content. Think of these asare HTML tags that provide additional information about the content on your pages. 
Getting schema markups right can produce rich snippets, showing more information about your products and brand. 
Several varieties of e-commerce schema include: 
Product schema that allows the display of product ads in search page results

Review schema that makes it easy to find specific people who have written reviews on your site

Price schema for pricing individual products or displaying a range

Product availability schema showing which products customers can buy
Here's an example of a bike pump product schema for a popular national retailer:

Avoid Duplicate Pages and Content
Avoiding duplicate pages and content on your site is another issue you want to avoid. Redundant copies of product descriptions, categories, and images can harm your SEO efforts and lower your ranking. 
Fortunately, you can avoid these issues by: 
Changing the URL so that it is not identical

Using 301 redirects to point from duplicate pages to the original

Adding canonical tags to tell search engines the page is a duplicate 

Using different keywords, content, or images on duplicate pages
Improve Your Site Speed
You can also improve e-commerce SEO by increasing site speed. Remember, Google considers loading times a ranking factor, meaning they will have an appreciable impact on your overall ranking. 
Good ways to improve site speed include:-
Compressing images

Using a few social media widgets on your site

Using additional white space

Limiting the number of HTTP requests it is possible to make

Hosting your website on a faster server
Build Quality Backlinks
Another pro strategy is to build quality backlinks. Hyperlinks should come from high-domain, authoritative, and relevant sites. 
Don't spam links from low-quality sites. Google can use its crawler bots to see where links are coming from and penalize you. 
(If you have bad links to your store, use Google's disavow tool to remove them to avoid penalties). 
When link-building, seek out trusted partners. Ensure you do not violate any of Google's guidelines and rules.
Add a Sitemap
An additional way to improve e-commerce SEO is to use a sitemap. Search engines use these to crawl your store efficiently and rank the relative importance of your pages. 
Writing a sitemap by hand is time-consuming, but Google's Webmaster Tools let you do it automatically. 
XML sitemaps are helpful for SEO, while HTML sitemaps are more convenient for users. Most professionals recommend using a combination of both. 
Make Social Sharing Easy
Finally, make social sharing easy. Include social sharing buttons below your products so website visitors can post them with a single click. A minimalist aesthetic is ideal:-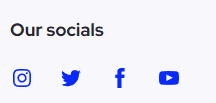 Final Verdict
So, what have we learned from this discussion? 
We discovered that SEO is essential in helping online stores grow and gain new organic customers. We also found that getting there requires a multi-pronged approach involving everything from keywords to page speed; a single strategy won't work. 
Ultimately, SEO is more than a mere tool but a transformative strategy for e-commerce businesses. The brands that succeed will be those that win the market. 
You can find out how well your store performs today using a site auditor tool. These provide unlimited reports, showing you what's working, and what's not, on a single dashboard.