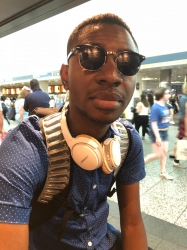 Latest posts by Andre Harris
(see all)
When you think of SEO best practices, you'll likely think about tasks such as optimizing web copy and titles or filling posts with internal links. However, while these on-page SEO strategies can boost engagement on your website, it's important that you do not forget about Off-Page SEO techniques, either. 
In this article, we'll dive deeper into the world of Off-Page SEO, focusing on some of the more popular techniques you can use to drive traffic toward your website. We'll also provide you with a list of off page seo techniques you can use today to benefit your business tomorrow. 
What Is Off-Page SEO?
Off-Page SEO refers to strategies used outside of your website to boost SERP (SERP Engine Results Page) rankings. This differs from On-Page SEO strategies, which are built into your website or online content.
What are off-page seo techniques?
An off-page SEO strategy tends to focus primarily on link building but can also include other tasks, such as enhancing your social media presence or appearing on popular industry podcasts.
When applied correctly, SEO off page techniques ensure that the ever-changing search engine algorithms work in your favor by making your site appear more authoritative and trustworthy. This means that your site will climb in SERP rankings, improving brand visibility and increasing web traffic quite considerably. 
Failing to use off-page seo practices could mean that your business fades into obscurity, especially when you consider that web users rarely venture off the first page of search results they see. This is because they associate low rankings with poor-quality websites or believe they are less likely to contain the information they are looking for. 
The Importance of Off-Page SEO
Off-Page SEO is important because it improves your SERP ranking, and, as "the first five results shown on a SERP page receive 67.6% of clicks", websites that do not rank highly will not get the web traffic they need to survive.
Conversely, by boosting SERP ranking using the best off page seo techniques, you'll notice an increase in referral traffic, audience interaction, and sales. 
While on-page SEO is useful, you cannot rely on these techniques alone to succeed in 2023. Instead, you need to use a combination of both on-page and off-page SEO techniques.
The best SEO off page optimization techniques
By now, you should understand the importance of using Off-Page SEO techniques when promoting your business. However, it can be hard to know where to start unless you're a digital marketing expert. That's why we've compiled a checklist of some of the most popular seo off-page optimization techniques for you to use.

Secure valuable backlinks

Social Media Engagement

Guest post on third-party websites

Maximize Creating Video Content

Social Bookmarking

Start answering on Quora

Create infographics and use appealing images

Submit to directories and forums

Submit Your Images

Consider investing in local SEO

Business Reviews

Podcast Marketing

Influencer Marketing



While the above list does not contain all off page seo techniques in existence, it does include some of the most popular and effective. Read on to find out more about each of these practices. 
Secure valuable backlinks
As previously stated, numerous off-page SEO strategies revolve around link building. This involves featuring links to your website on third-party sites, such as blogs. 
Securing backlinks is one of the easiest ways to ensure that your site ranks highly on all search engines. This is because whenever a third-party site links back to your website, the algorithm views this as an indicator your site is authoritative and trustworthy. In many ways, it's like you've received the seal of approval from another site. As a result of this, your website will begin to climb the SERP rankings, as search engine providers will always want to pivot audiences towards trustworthy content. 
The importance of backlinks is made clear when you consider the fact that "91% of all pages never get any organic traffic from Google, mostly due to the fact they don't have backlinks." 
However, you must secure valuable backlinks – meaning they must come from sites that search engines view as authoritative in their own right. Otherwise, this could damage their perception of your business and brand. In any case, the quality of the backlinks selected is more important than the quality. For example, it is better for your website to be featured on a few popular websites rather than 100s of websites with a tendency to engage in "link stuffing." 
You can generally determine whether or not a site is a valuable place to secure backlinks based on its domain authority. This is a score out of 100, which predicts how likely a website is to rank highly on different search engines, such as Google or Bing. The higher the score, the more authoritative the domain is. 
In addition to securing valuable backlinks, you may also want to look into link earning too. 
Social Media Engagement
While your social media presence may not directly improve your search engine ranking, it does increase brand visibility quite considerably. This, in turn, can lead to improved web traffic as users begin to search for more information about your brand, products, or services. In fact, a staggering 81% of website visits for businesses come from social media platforms. 
As such, you should always be on the lookout for ways to heighten engagement on your socials. For example, you should always capitalize upon social media trends so that your brand appears as fresh and current as possible. This can also help capture the attention of a wider audience. 
On platforms such as Instagram, using specific, tailored hashtags can work in a similar way to using keywords within your website. That is, it can make it easier for users interested in your brand or products to stumble across your brand organically. As such, you should use 4-5 hashtags in every post. 
Guest post on third-party websites
Guest posting on third-party websites, such as blogs, is one of the most effective off page seo techniques, especially if you embed backlinks to your content within these posts. This is because it allows you to present your content to a new audience. One study found that "guest posting brings 3x more leads close to conversion." 
Of course, you shouldn't overdo this. One or two links back to your site will be enough to improve web traffic and convince the algorithms that your website is trustworthy. Including more than 2-3 backlinks will make your guest posts feel overly advertorial, which most audiences dislike. It could also sour your relationship with the owner of the third-party site, meaning they're less likely to invite you to guest post again in the future. 
When choosing which sites you'd like to write guest posts for, there are many different factors that you should take into account. This includes: 
The website's audience/niche

The linking domain authority/page authority 

The website's traffic/reach
It is crucial to ensure that you only contribute guest posts to websites that are specifically tailored to your intended audience. After all, this means you'll introduce your brand to your target audience instead of a more general readership. For example, if you run a fashion brand, appearing on blogs that share fashion and lifestyle posts will prove more fruitful than guest posting on a health and wellness website.  
Maximize Creating Video Content
The time users spend on your website (often referred to as session length) can also affect your position in SERP rankings. This is because a fast bounce rate indicates that there's nothing of value on your site, which could cause your ranking to plummet. Conversely, a low bounce rate shows that users are getting exactly what they are looking for when they enter your site. 
As such, when improving your off-page SEO strategy, you should focus on curating engaging content like videos. After all, videos present information to your viewers in new and exciting ways, often capturing their attention in ways that large blocks of text cannot. For example, we're much more likely to hit play on a 1-minute video than we are to read an entire page of text (even if it is SEO optimized). 
Furthermore, various studies have found that "our brains significantly retain more information when watching a video as compared to reading text." As a result, this could improve brand building or brand recall, as viewers are more likely to remember the information you've shared with them if it comes in the form of video content. For example, this could mean that while they may not purchase a product right away, they will Google or search for your brand again in the future. 
In addition to adding videos to your website, you may want to set up a YouTube channel for your brand. 
Social Bookmarking
Social bookmarking is the process of adding your website or posts onto a web index, such as: 

Reddit

Pinterest

Digg

Digo

Fark

Slashdot

Pearltrees

Stumble Upon



After bookmarking your site, you'll notice a natural uptick in the web traffic you receive. This is because it makes it easier for users to discover your content or platform. Furthermore, as they can search for it using specific keywords and phrases, it often ensures that your site is recommended to the right audiences (your target demographic).
Social bookmarking sites may also be helpful when scouring the web for authoritative sites for your backlinks, as you can filter out sites that may not be as relevant as you first believed. 
Start answering questions on Quora
Answering questions on Quora is another excellent off-page SEO strategy that can drive traffic toward your website while also helping you to establish yourself as an industry leader.
This is because it allows you to effectively demonstrate your expertise and knowledge on a specific topic related to your brand, business, or industry as you provide users with answers to their burning questions. When you establish yourself in this way, the search engine algorithms will once again push your content, and users will begin to think more favorably of your brand overall. 
Furthemore, with over 300 million active monthly users, Quora is a great place to build your audience. However, similar "Question and Answer" based sites, such as YahooAnswers and Stack Exchange, could produce similar results. As such, it's best to try and build up your presence over a range of different websites. 
Create infographics and use appealing images
Many marketers looking to improve their Off-Page SEO should consider creating infographics or using appealing images. This again comes down to the fact that users are looking for engaging content, and infographics make information more digestible and engaging. For example, they could get the information they are looking for right away instead of searching your entire website for it. 
Infographics can be featured on your website, social media pages, or guest posts, which means a single graphic can fulfill multiple purposes. Web copy included within infographics can also be SEO optimized by including keywords and phrases, which will, once again, push your site in the search engine rankings. You should also ensure that all infographics link to your website or include your website somewhere within the content. 
Submit to directories and forums
Submitting to directories and forums may seem like an outdated marketing practice, but they're actually a great way to improve your online visibility. In fact, this is one of the top off page seo techniques around.
However, you must choose the right forums and directories to maximize your returns on this endevor. For example, you should focus on honing on a specific niche related to your business instead of posting on more general forums. 
Popular directories include: 
Bing Places/Bing

Google Business Profile

Yelp

White Pages

Foursquare

Dex

Better Business Bureau

MerchantCircle
When posting on forums, it's crucial that you do not forget about your brand voice. Each time you post online, it's vital that you're consistent in your approach and how you present yourself – after all, if this is the first time a user is interacting with your brand, they must get a picture of what your company is like. 
Submit Your Images
Image submission is another backlinking strategy, only this time, the end goal is achieved through images instead of bodies of text. For example, marketers can leave images related to their website or business on services on sites such as Pinterest. The audience will then interact with these images and can follow a link back to the original site. Other popular sites for image submission include: 

Media Fire

Flickr

Imgur

Instagram

Facebook

Tumblr,

Google+
To bring back a positive ROI for these endevors, you should use high-quality images, as users are simply more likely to engage with this kind of content. Poor-quality images indicate a lack of care or professionalism, which could damage a user's perception of your brand. 
Consider investing in local SEO
As the name suggests, investing in local SEO means that your website will become more visible in local searches (i.e., when people search for _near me or include the name of your town or city). As such, it can be a great way to connect with your audience and, by extension, boost your sales. For example, a recent study found that "over 50% of 'near me' searches result in a physical store visit." 
You can begin to invest in local SEO in many different ways. For example, you should set up a Google My Business Profile. This platform allows you to add your business location to 'Google Maps, making your brand instantly more visible. It also leaves space for user reviews. Many users report an increase in web traffic upon listing their business here, alongside an increase in phone calls, emails, and direct messages. 
Another way in which you could utilize SEO is through the use of citations. In this context, citation refers to including your business's name, address, and mobile number on third-party sites. Again, this can be a great way to make your brand appear more trustworthy, meaning you'll be boosted in the algorithm. 
Business Reviews
Business reviews on third-party platforms can also improve your off-page SEO efforts, especially if listed on credible sites like Trustpilot. However, you should also ensure that you feature reviews on your site, whether you have set up a separate page for this or embedded reviews from other sites, like Trustpilot and Google.
The content featured within user or buyer reviews can also help you with SEO, as they'll likely contain long-tail keywords or phrases that can improve your ranking and capture the attention of your target audience. 
Of course, reviews are a form of promotional content you cannot curate in-house; they have to come directly from your audience. However, as "70% of consumers will leave a review for a business when asked", simply prompting customers to leave reviews could help in this area. Alternatively, you may want to give them some kind of incentive that could encourage a review, such as access to a discount code.
Podcast Marketing
Whether you launch your own podcast or feature on other industry-relevant podcasts, tapping into the world of podcasting can provide you with multiple growth opportunities for your business. For example, "54% of podcast consumers say they are more likely to consider the brands they hear advertised on podcasts."
By putting your brand or company name out there, you're also enhancing your off-page SEO efforts, as you're more likely to appear in online searches as a result. 
Influencer Marketing
Influencer marketing is one of the latest off page seo techniques to become popularized. It involves partnering with "influencers" (people with large online followings)  who share your target audience before having them share some of your content with their followers. 
For example, they could post a picture, video/reel, or TikTok of them using your newest products. Alternatively, if they run a popular blog, ask them to include backlinks to your website within their next post or allow you to write a guest post for them. Either way, this can significantly extend your reach and ensure your business becomes more visible online. If you forge a strong relationship with the influencer in question, they are also more likely to recommend your brand to their followers again in the future. 
While it may be a relatively new marketing strategy, it's one that we'll be relying on for years to come. This is because new customers feel they can trust your brand based on their pre-established trust in the influencer. For example, "61% of consumers trust the product recommendations they get from influencers, while only 38% trust branded social media content." As such, you may find that your influencer marketing strategies outperform your other social media campaigns by a significant margin. 
Conclusion
In order to succeed in the current market, business owners must get creative when it comes to improving or building upon their current SEO strategy, and the off page seo techniques listed above are a great starting point for this.
While in the past, on-page SEO may have been all that was needed to boost traffic and reel in audiences, this is no longer the case. As such, off-page SEO techniques should be considered a priority – whether that means working on your backlinks, guest appearances on blogs, or launching your own podcast.
Any combination from the off-page seo checklist above will help you to ensure that you receive the results you are looking for moving forward. 
If you aren't sure where to start, it's best to begin with link building and lead generation, as they often bring forth the best results, no matter what industry or niche you may operate within. 
If you'd like to learn more about lead generation, please do not hesitate to get in touch today. So far, we've helped companies around the world generate over 1,000,000 leads – and the number grows every day. As such, we're in the perfect position to help your business gain the traction it deserves moving forward.