Latest posts by Marvin Russell
(see all)
A long awaited update to SEOGROUP is finally here. We've rebranded and completely updated our white-label website audit tool. The tool is now called MySiteAuditor. MySiteAuditor is a lead generating website audit tool for SEO firms to easily embed on their website. Any business or website owner looking for SEO, web design, online PR, or any other digital marketing service will love the ability to instantly SEO audit their website and competitor websites. But, they can only do so if they enter their name, number, and email address.
What is MySiteAuditor?
It's a white-label and easily embedded SEO audit tool that can audit any specific web page of any website for any targeted keyword or phrase.
MySiteAuditor is free for your website's visitors. Think about it like this: on average, only 2% of people who visit your website will give you their contact information. But with MySiteAuditor embedded on your site, you can double, triple, or quadruple that. Heck, you can get 10 times more conversions through MySiteAuditor. It's up to you, and how strategic you are with embedding MySiteAuditor.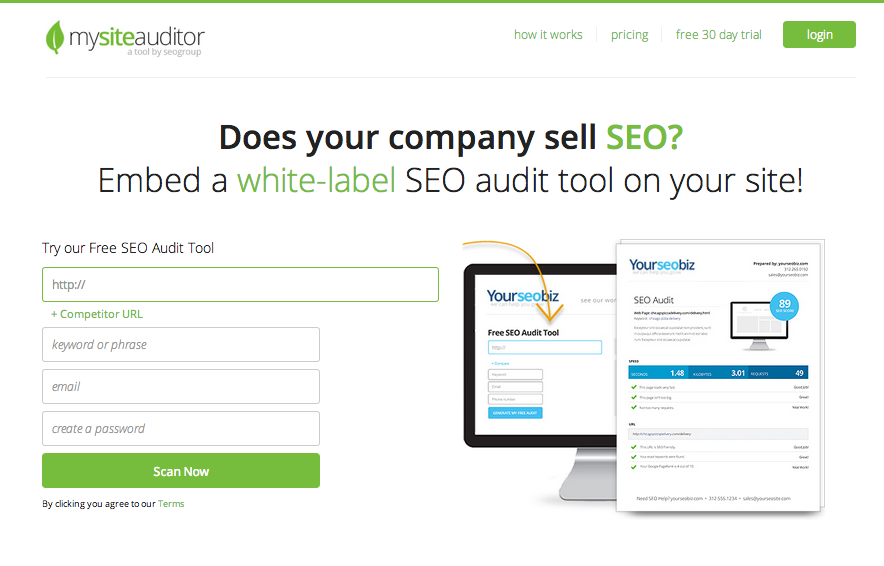 Who should use MySiteAuditor?
Anyone who sells SEO services, but more specifically:
Digital Marketing Agencies

SEO Companies

Web Design and Developers

Online PR Companies

Freelancers and Contractors
How would MySiteAuditor benefit people who sell SEO?
1. Generate more SEO leads from your website
MySiteAuditor is a free website auditing tool for your visitors that they can use over and over if they enter their contact information like name, email, phone number. They will love using this tool, and you will love getting their contact info every time they do so.
See the example below of how The Ocean Agency embedded the website audit tool on their website to generate more SEO leads.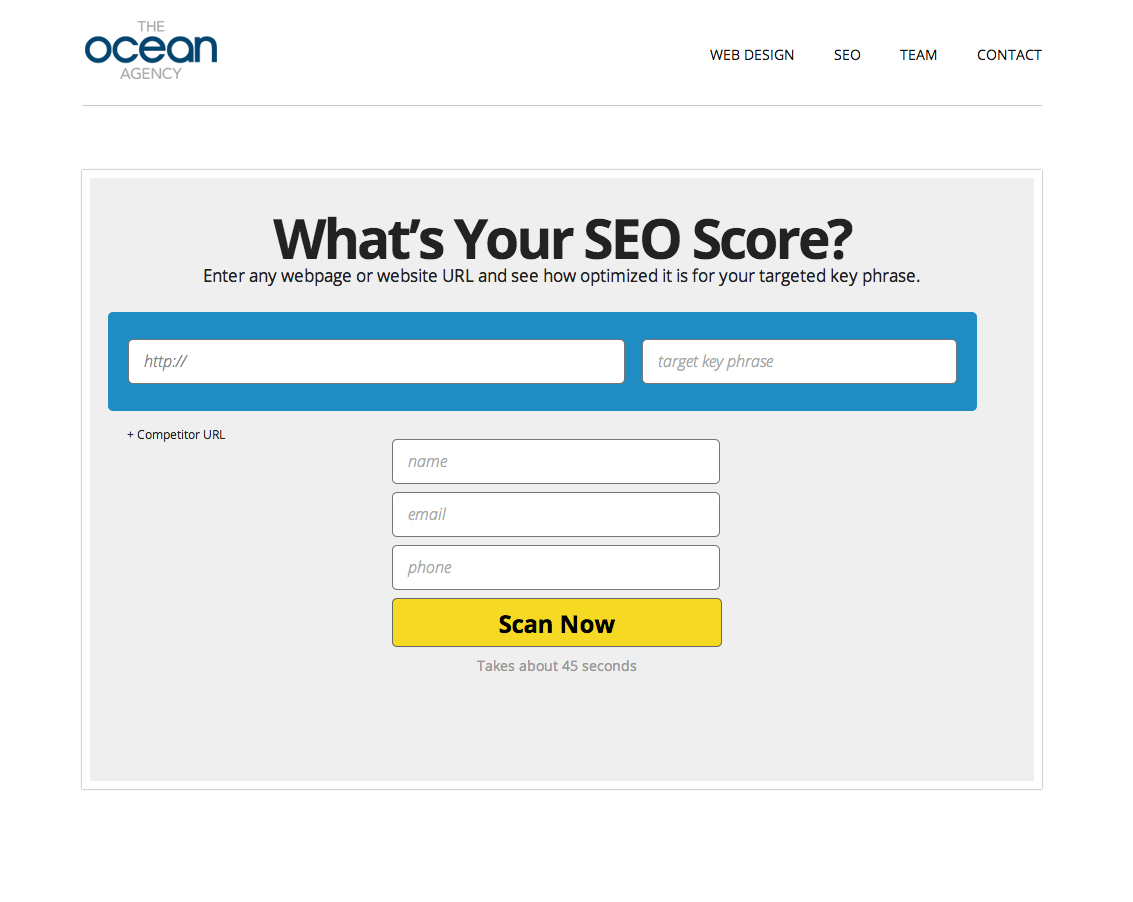 2. Sell more SEO deals
If you want to impress your sales prospects, simply audit any page of their website and bring it to your sales meeting. Walk them through everything they need to improve on. If you really want to impress them, use the comparison feature and show them how they compare to a high raking competitor. I guarantee you will impress them and this will help you increase sales!
How good is the actual website auditor?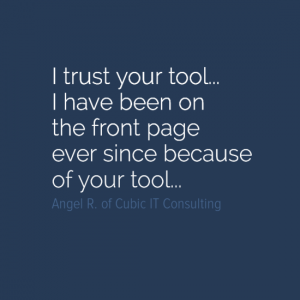 It's pretty freaking awesome! We've spent 10 years analyzing how Google ranks websites, and we've put all that good information into over 50 SEO checks our audit tool looks for. As Google updates their algorithm, so will we. See sample website audit
Test it out. Audit any web page on any website for a targeted keyword or phrase. Work on getting the grade of that page above 80% and do a search for that key phrase. I promise you will see a huge improvement in your rankings. Yes, that includes being ranked on page #1 of Google.
What are the features?
MySiteAuditor is easily white-labeled and embedded on any website (takes 2-3 minutes!)

MySiteAuditor is free for your visitors but requires their basic contact info

Get instant email notifications with visitors' contact information when your visitors use your audit tool 

Organize and save websites you 

audit on your dashboard

All audits are downloadable and printable

MySiteAuditor audits individual web pages for targeted keywords (in addition to the entire websites)

Comparison tool for comparing to high ranking web pages

Audits based on 50+ proven SEO checks of Google's search algorithm

Audits and comparison audits are excellent for sales meetings to impress clients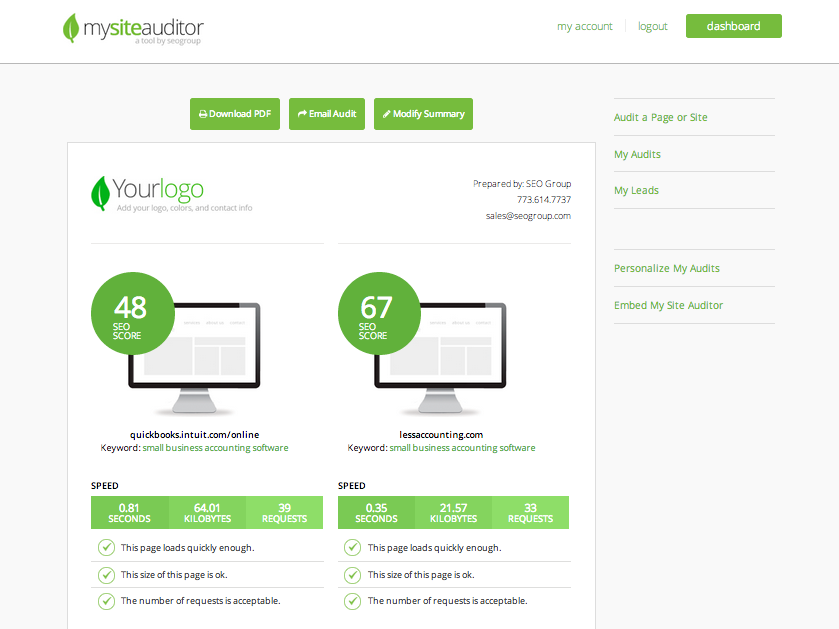 Is there a free 30-day trial?
Yes. (No credit card is required at this time.) Start your free trial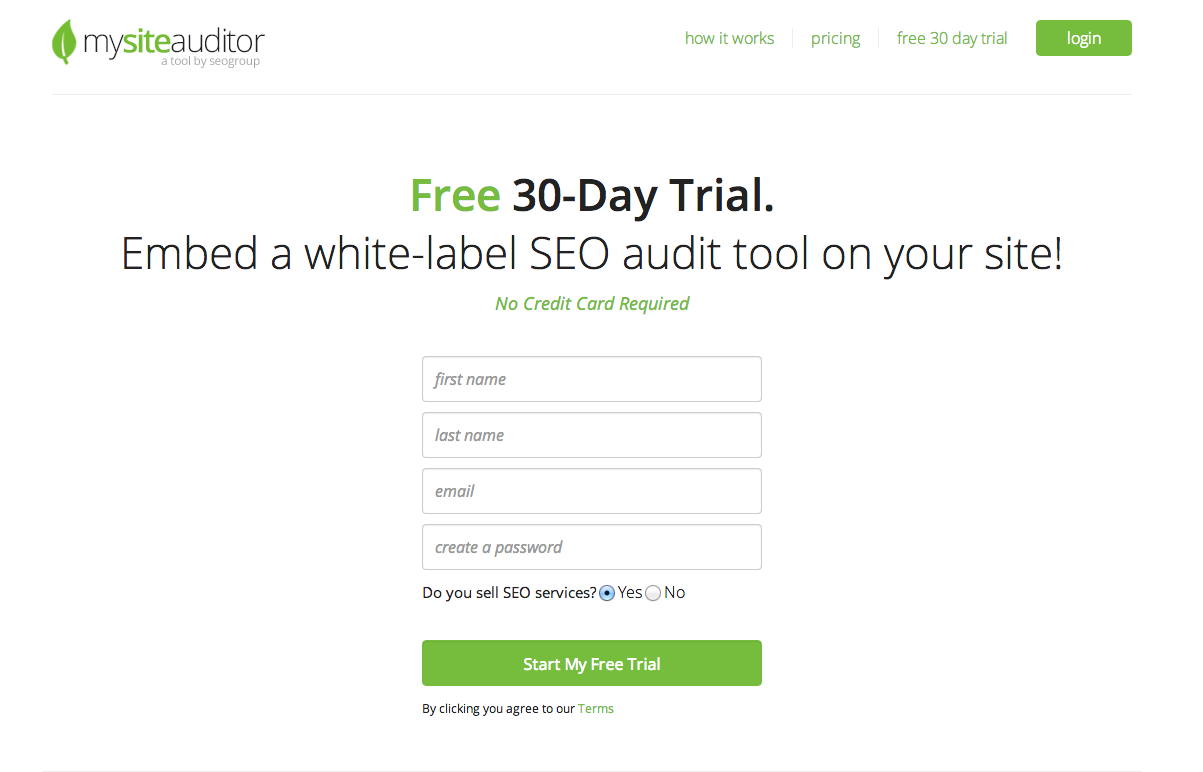 How much does MySiteAuditor cost?
Professional membership, which includes embedding and white-labeling your audit tool and audits is $49 per month. Basic membership, which only lets you white-label your audits from your dashboard is $29 per month. See pricing