Latest posts by Sureswift Support
(see all)
I've got great news. If you read and follow this guide, I'll show you how to do professional keyword research for little or no money.  I'll walk you through my personal, step-by-step, proprietary keyword research process, and I'll even list and link to the absolute best free keyword research tools in the world.
By the end of this simple and easy to follow guide, I guarantee you'll be doing keyword research like the best SEO professionals in the world.
Let us begin…
2 Important Reasons You Never Skip Keyword Research
First, let me briefly explain why you should never skip keyword research, and why you should always do in-depth and professional keyword research for every new SEO campaign, website, or blog.
Keyword Burnout
You don't want to spend hours and hours of time doing keyword research right before you create new content or write a new blog post. Do your keyword research on a separate day, not the same day you plan on creating content.  Otherwise, you can and will feel burned out for the day, leaving you with little or no energy for your content. If you're not aware, this can happen over and over.
Keyword Mistargeting
Imagine spending months, or even years, targeting a keyword that doesn't convert well. This happens to rookies all the time. That's why it's import to have and follow a tested keyword process from an SEO expert who has successfully done this before.
Top 10 Free Keyword Research Tools for SEO Campaigns
The second thing I want to share with you are my top ten favorite free keyword research tools. I can't guarantee they will all stay free, but they're free right now, so take advantage.
Google Related Searches are keyword suggestions, shown below Google search results, and are populated based on previous user searches using Google's predictive algorithm. To see Google Related Searches, search for anything in Google and look below the search results. Lots of great ideas, and a great place to start keyword research.

Google Keyword Planner – Enter your web address and/or keywords to find more related keywords, with estimated search volume. If you hadn't noticed, Google is first and second on my list…. well, because it's Google!
Soovie – is a fast, free, and a great place to start researching ideas. Enter a keyword and this free keyword tool will automatically display keyword suggestions.

Google Autocomplete shows you predictive suggestions as you type in a new search in Google. These predictions are based on previous searches and similar searches on the web.
Google Correlate – Enter a keyword and find new keywords that Google considers very similar.
Uber Suggest is a fast and free keyword suggestion tool. Solid results. Get great ideas. A great place to start your research.
LSI Keyword Generator – Latent Semantic Indexing determines the relationship between search terms and concepts in content. Solid tool!
SERPs is a solid, free, and quick keyword research tool. It uses Adwords data to suggest organic and paid keywords.
Spy Fu has been around a for while and still offers solid keyword research for free, along with a paid option as well.
Keyword Tool – Find keyword suggestions for Google, Youtube, eBay, Amazon and the App store. 750 suggestions are free, but then you have to pay.
Free Download: Save a copy of this checklist I made:
17 Ways to Build Links in 2017
My 5 Step Keyword Research Process
Before we walk through each step, I'd like to quickly list each individual step, so you can easily refer back as a quick reminder.
Step 1: Pick Your Keyword Topic
Step 2: Brainstorm Subtopics
Step 3: Keyword research
Step 4: AB Testing
Step 5: Start Targeting
Those are the five steps. Again, you can do most of this for free, with the exception of a few optional tools, that I do recommend.
Besides the keyword research tools I've mentioned, the only other tool you will need is a spreadsheet to organize your keywords.
Attached is a keyword research example spreadsheet that you can save, download and reuse.
On with the show….
Step 1: Identify a Keyword Topic
This step is pretty easy. In fact, it's mostly common sense. You're going to sum-up your website into one or more topics. So, in a word or two, how would you describe the content on your site or blog? You shouldn't need any tools for step one, just your brain, accompanied by some good old fashion common sense.
Here are some topic examples:
Fitness
Men's T-Shirts
College Debt
Coffee
Content Marketing
Traveling Abroad
Some of you who are more niche, can sum up your entire website or blog under one topic; however, some of you may have a few different topics. That's ok. Just repeat the process for each topic.
I suggest organizing your topics in the bottom tabs of your spreadsheet. In other words, each tab should be labeled and represent a different topic.
Let me share an example, so were all on the same page. Let's say you're a huge whiskey lover, so you start an online subscription service, like Taster's Club, where members get a new whiskey each month.
Your main topic is easy. It's "whiskey"!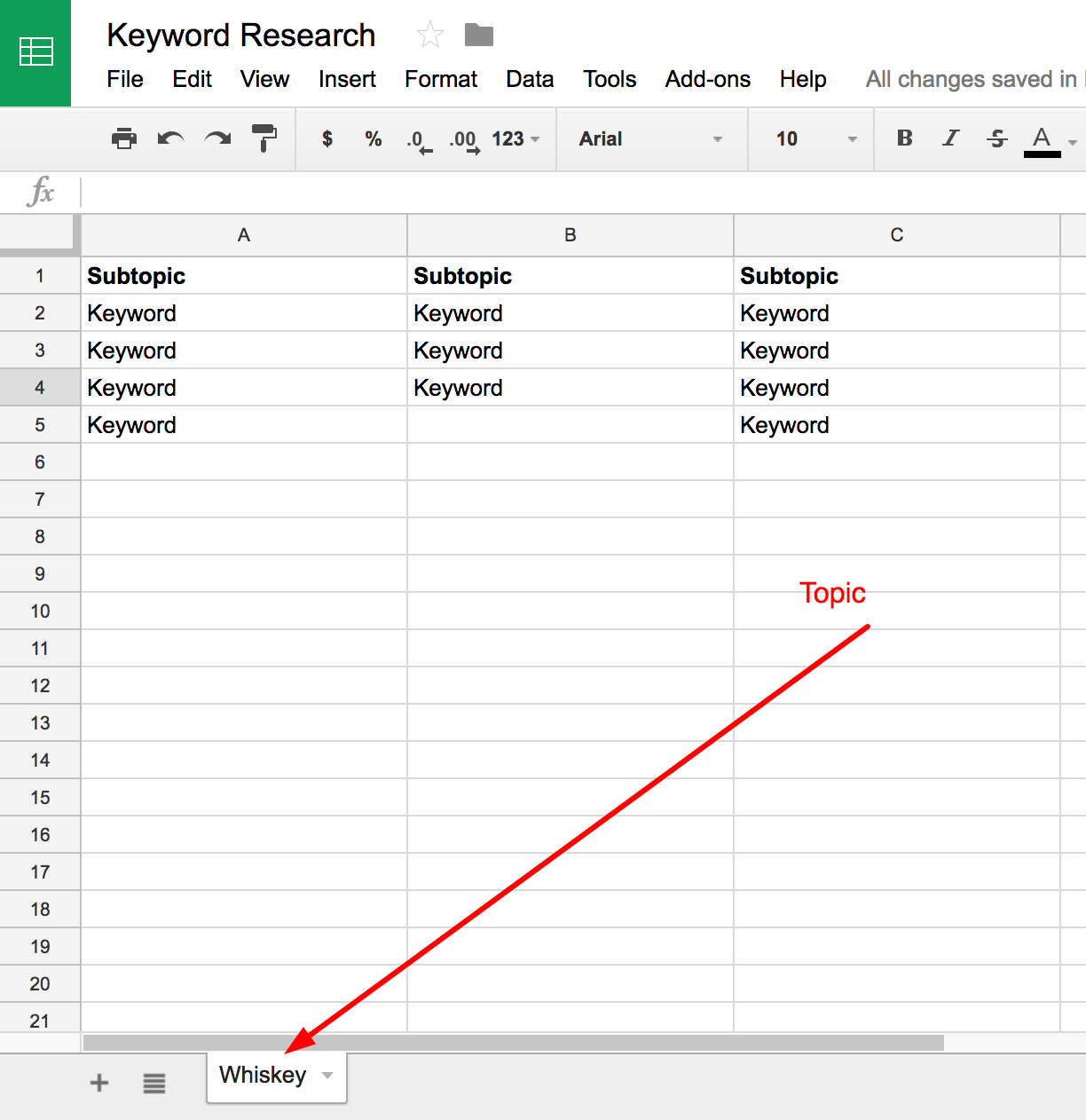 Step 2: Research Subtopics
This step requires a combination of common sense and the free keyword research tools I've listed above. Surprisingly, the first tool I've been using lately to brainstorm subtopics is Soovle.com. This tool may look like crap, but whatever SEO nerd built it did a great job of displaying really fast and really good ideas.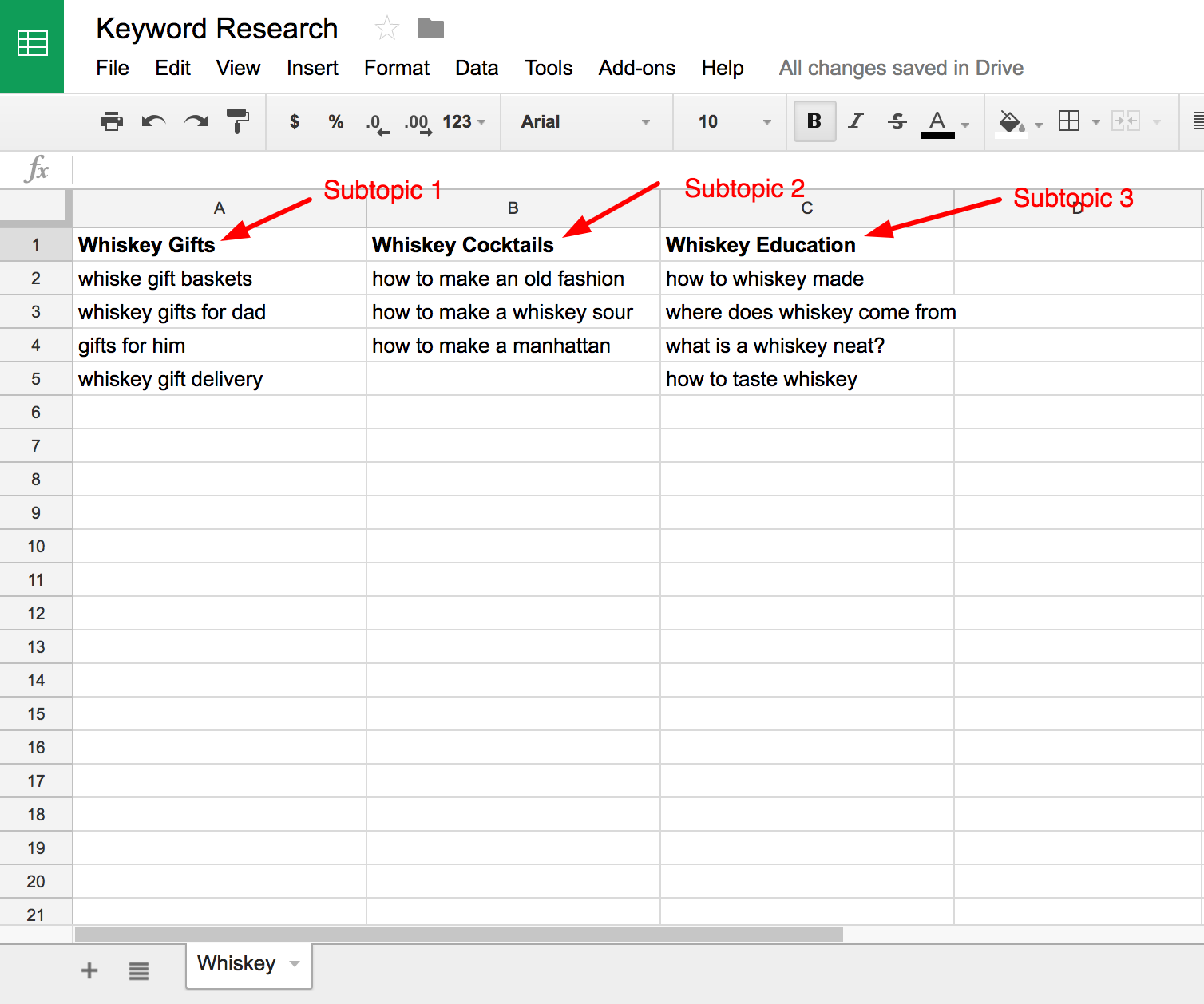 Enter your topic and keywords will instantly appear around the search box, giving you tons of subtopic ideas. Keep in mind, at this point I'm not really researching keywords. Well, I'm taking mental notes, but what I am really doing is adding subtopics to the top of my keyword research spreadsheet.
Let's stick with the whiskey example for subtopics. Type in the word "Whiskey" and see what pops up.
Whiskey Gifts
Whiskey Education
Whiskey Cocktails
Great subtopic ideas!
If you need a little more inspiration, try using Google Autocomplete and Google Related Searches for subtopic ideas.
This is also a good time to checkout Google Correlate so you can see different keywords with similar meanings in the eyes of Google. You can also see how keywords differ in popularity over time, and how much more popular some keywords are than others in different states,
Note: I usually add about 5-10 subtopics or more to my spreadsheet.
Step 3: Keyword Research
This critical step is where you'll find actual keywords you're going to target during your SEO campaign. So, buckle up and pay close attention. It's not rocket science. It's actually pretty easy once you have confidence and reassurance that you're doing this the right way.
During this step you're going to use a few of the above tools. You don't have to use them all but I'm going to suggest using a few, starting with Google. After all, who better to get keyword research data from, then the most popular search engine in the world.
First try Google Autocomplete and Google Related searches for keyword ideas.
After that, use Google's Free Keyword Planner. Keep in mind, the keywords displayed are based on Adwords data, and the search volume shown, are just estimates, not real figures.
It's important to note that you should never go after keywords with the highest search volume, simple because they have the highest search volume. Some of those keywords could takes years or months to rank for, if you ever rank at all.
I'd go with the low hanging fruit first. If you can, try to target long-tail keywords that have short tail keywords inside them.
For example: "Old Fashion Whiskey recipe" has "whiskey recipe" in it.
After you've added a bunch of keywords to your spreadsheet, and you've exhausted Google Keyword Planner, I'd move to some of the other free keyword tools to find more ideas.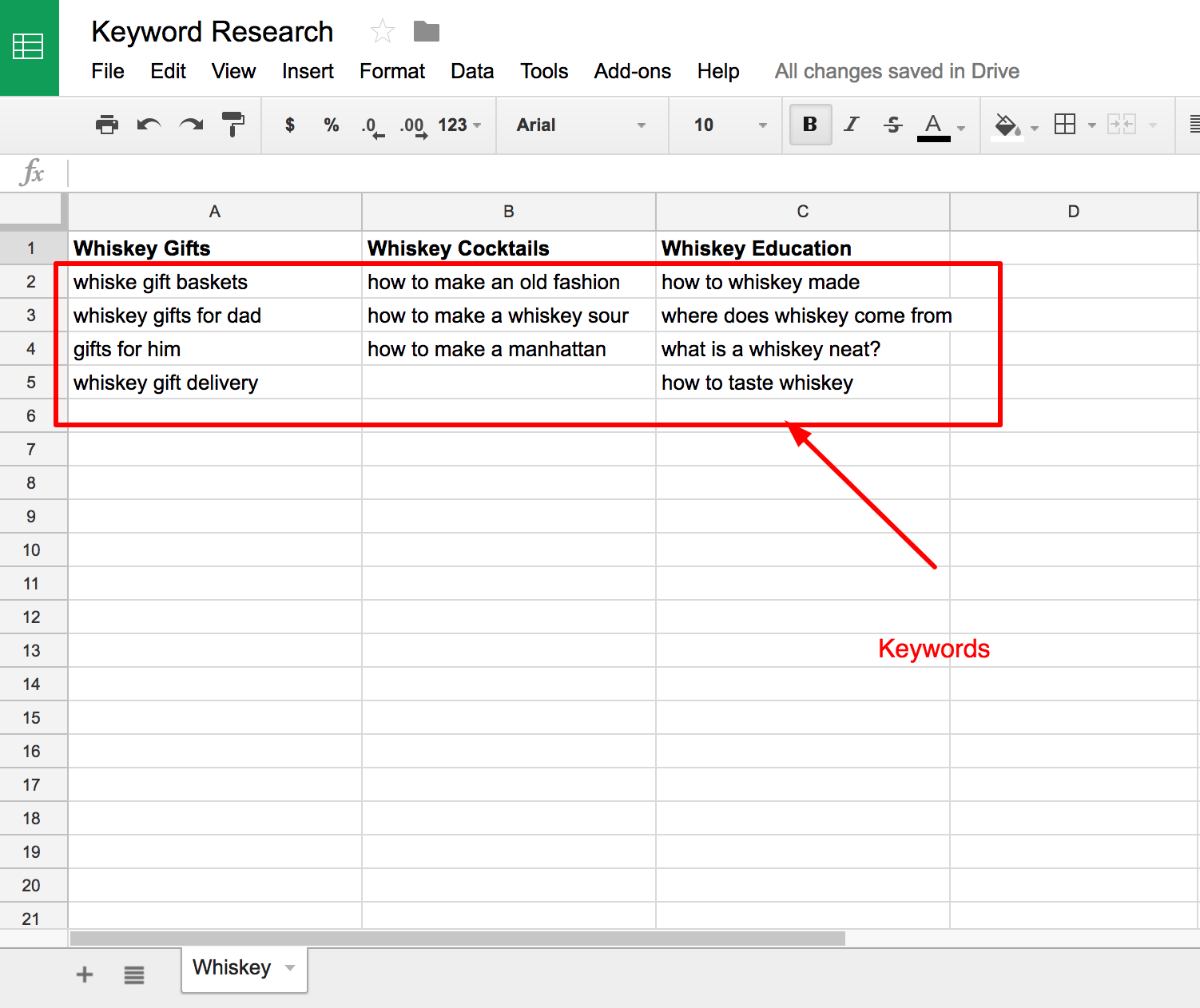 Step 4: AB Testing
Before targeting your keywords, test a few of them out. Especially if you're tracking conversions, which you should be.
This step works best if you're confused and concerned about targeting short-tail and more difficult keywords over long periods of time. Like I stated earlier, the worst thing you can do is waste months or years targeting the wrong keywords.
To play it safe, run a Google Adwords campaign, targeting various different keywords. Track your conversions, and see which keyword converts the best. Once you have an answer, target that one in your SEO campaign.
You don't have to spend much. Maybe $100….maybe $200. But it's worth it.
Step 5: Targeting
At this point, your keyword research should be done, for now. You're going to have to update it again and again, every three to six months.
As you target your keywords in new content, I must recommend a few things.
 Create a content calendar, based around your keywords, and stick to it with one exception. See #2.
Use Buzzsumo (Paid tool) to find trending topics that match your keywords. Buzzsumo will tell you what keywords are currently trending, who's linking to it and who's sharing it. Based on current trends, you might switch your content calendar up a bit.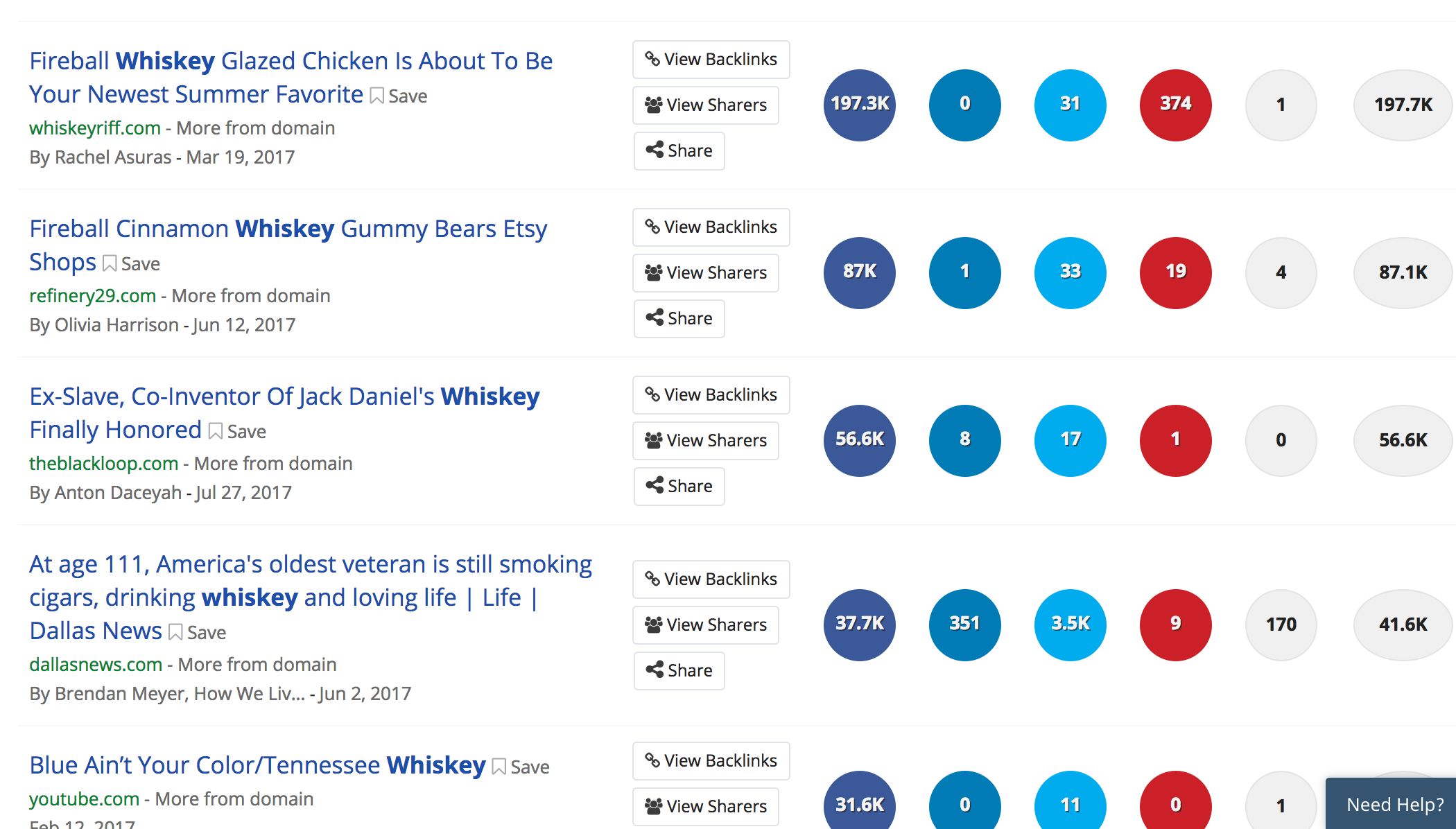 Free Download: Save a copy of this checklist I made:
Free Download: 22 Questions You Must Ask New SEO Clients
Final thoughts
There you have it. The ultimate guide to keyword research, including a free list of tools I recommend, and my very own proprietary, keyword process. So measure twice and cut once when it comes to keyword research, otherwise you could be wasting months or years of your time, or even worse, your client's time.
Good luck!