Latest posts by Jessica Kandler
(see all)
For many marketers, search engine optimization is a key strategy to helping clients meet their online goals, but it can be a huge challenge to present SEO data and recommendations to clients in a way that is understandable and actionable.
This post will walk you through how to develop, explain, and leverage SEO audits for your clients.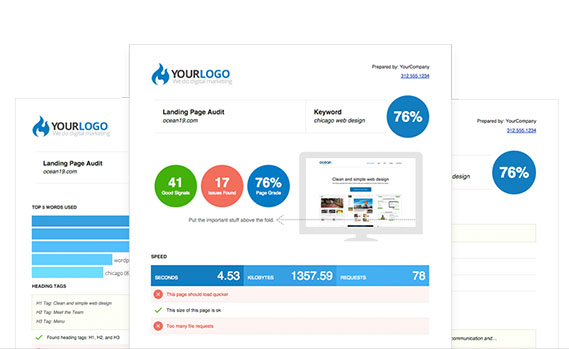 First, start by creating a really good-looking audit. Make sure it's visual, clean, and easy to understand. There are hundreds of SEO factors your audit could include, but here are 16 elements your client SEO audits should start with:
Keyword rankings – audit your client's website for keywords they might already be ranking for, or want to be ranking for.
Meta data – meta data includes elements like a webpage's title tag and meta description. Does your client's site have these? Are they unique and well crafted?
Content analysis – are your client's keywords being used throughout the page copy? how much copy is on the page?
Social analysis – SEO and social media are tied to one another. Does your client's site content get shared on social? Dot hey have social share buttons incorporated into the site?
Url structure – it's important that URL's contain relevant keywords, are shorter rather than longer, and are attractive to users as well.
Code errors – extensive site errors like 404's (page not found) make your site appear sloppy to search engines, and are at risk of penalty.
Site health – this can audit factors your client will want to avoid such as slow load speed or broken images.
Mobile friendliness – since Google's most recent algorithm update, mobile friendliness is an important factor. Is the site responsive? Are buttons easily clickable and text easy to read on mobile devices?
Link audit – many sites still suffer from blackhat SEO tactics implemented in the past, resulting in spammy links pointing to their site. A link audit helps you uncover who's linking to your client's site, and if it's a quality link.
In addition to the data itself, the visual layout of your audit is very important to client comprehension. The last thing a client wants to see is a 12 page spreadsheet chock full of extensive URL's and endless numbers.
Here are a few important tricks for making your audits more visual and readable:
Add some color. Using color to highlight specific points or break up sections goes a long way in improving the overall look and feel of your report. Use green for positive, red for errors, and consider adding a neutral color like blue to balance the color scheme.
Use ample white space. Forgo a busy-looking audit for a longer audit if necessary to ensure you're using enough white space.
Include images. Where appropriate, add an image to help break up text and give the reader's eyes a quick rest. But, make sure the images are extremely relevant to the audit content, and don't overdo it.

Add icons. Icons are quick graphics that help to reinforce points, separate content, and add visual intrigue.
Utilize headings. Clearly label each section in a consistent way, and instill hierachy in your text by bolding headings and increasing font sizes.
Speak in plain language. Some technical and SEO terms are unavoidable, but where possible, use plain language in your audit. Overcomplicating your explanation in order to impress your client with your professionalism and vocabulary may in fact just confuse them or make your data unclear.
Related Post: 8 Ways to Make Your Content More Visual
Don't forget to brand your audits – proving your value to a client is important. Reinforcing your brand with a consistent branded header and thank you or summary page keeps you front and center in the client's mind and presents you as the solution.
Explaining SEO audits to your clients
Here are a few examples of ways to more clearly explain your SEO audits to your client in a way that it understandable, which instills confidence, and which provides actionable recommendations and next steps.
Connect to the bigger picture
You may understand and believe in your recommendations, but your client may need some convincing. It is, after all, their budget you're using – so explain why each element matters and how it will impact them.
For example:
Client: Why does a meta description matter, anyway? Seems like a minor detail.
You: Actually, meta descriptions matters quite a lot to both search engines and potential visitors because 1) it helps crawlers understand what your webpage is about and whether or not it's relevant to the search query, and 2) the way your meta description appears in search engine results plays a huge role in whether or not a user is convinced to click through to your page.

Here's another example:
Client: We don't really get a lot of mobile traffic anyway – I'm not concerned with mobile friendliness.
You: Well, search engines are! Google's most recent algorithm update focused exclusively on mobile-friendliness, and now websites that aren't optimized for mobile could be penalized and rank substantially lower in search results.
Related post: Google's Mobile-Friendly Update: Everything You Need to Know
Use a technical glossary
Words like canonicalize and robots.txt are familiar to SEO's and marketers, but most likely won't be to your clients. The last thing you want to do is make your clients feel dumb, or intimidate them with jargon. Similarly, industry-specific language such a mozscore or domain rank will likely need clarification. Moz's Complete Glossary of Essential SEO Jargon is a super helpful resource for easily defining key technical terms to your clients.
Turn negatives into next steps
An audit with a low SEO score or a lot of glaring red errors is likely to be very discouraging to a client, but it places you as a marketer in a great position to step in and show your value. The key is clearly laying out a plan of attack that makes the task appear surmountable to your client. They may be feeling overwhelmed, so reassure them by providing a numbered list of the next steps which show 1) what issues to tackle first, second, third, and so on, and 2) what your solutions are. Allow your client time to ask questions or raise concerns, and be prepared to stand strong on your recommendations.
Use supplementary visuals
This awesome infographic from Backlinko helps visualize onpage SEO elements like H1 tags, url structure, and content. Don't include resources such as this within your SEO audit, but use them (or create your own) in tandem with the data. When you're meeting with your client to present the audit data, a supplementary visual may be the item that helps a concept or recommendation click for them.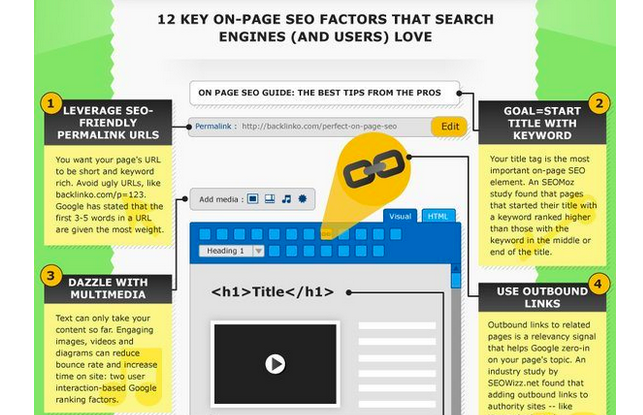 Know where to start
Clients often feel overwhelmed with too much data, especially if their website needs a lot of work to be properly optimized for SEO. It's your job to help them prioritize, understand clear next steps, and take action. Use your audits to talk through a starting point with your client, and be strategic about what to tackle first. Think about you client's bandwidth to help – if you provide them a sample meta description and title tag, do they have an internal team member who can draft them to expedite the process? Balance tasks that are easy to complete in a timely way with those that will have the most impact.
Using SEO audits as a sales tool
Using SEO audits as a way to pitch a new client can be extremely successful. This proactive approach is extremely impressive to clients because it showcases your expertise upfront and provides them real value
Here's how to pitch a prospective client using an SEO audit:
1. Analyze your prospect's website and find their home page, service page, or a product page they are trying to rank for.
2. Determine a keyword or phrase they might want to rank for, and search the term to find one of their competitors who ranks higher on the same targeted keyword or phrase.
3. Conduct an SEO audit of a specific landing page on your prospect's site, and an audit of a competitor's landing page that is ranking much higher for the same targeted keyword or phrase.
4. Set up a meeting or call with your prospect to run through both audits item by item, line by line. Show them what their competitor is doing differently, and how these differences are allowing their competitor to rank higher.
5. Pitch your expertise and services based on the areas of improvement identified in the audit.
Try our SEO Audit Tool