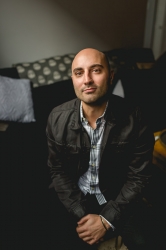 Latest posts by Niko Vergis
(see all)
Chris Finnegan is the owner of SEO Copilot and a long-time user of MySiteAuditor. In this post, we've invited Chris to talk about how he uses MySiteAuditor to grow his SEO agency.
It goes without saying that MySiteAuditor is a lead generation machine. To date, we've had 13,569 conversions at a rate of 52%. Below are the top four ways MySiteAuditor has contributed to our SEO agency in an effort to help my sales team become fully booked for all of 2016.
1. Rapid List Building
I knew an SEO ebook wasn't going to grow our list as fast as I wanted, so the hunt for an alternative began. MySiteAuditor stood out with it's seamless integration and value packed SEO reports. Once we purchased the Professional membership, we setup our SEO audit landing page and quickly grew the email list into the thousands, at 10x the pace I had seen from ebooks.
2. Killer Link Bait
The holy grail of link-building is having content that's so awesome and compelling, it attracts links on autopilot. When it comes to the types of content that naturally attract links, online tools are hard to beat. Our SEO audit page with the MySiteAuditor Large form embedded consistently delivers quality links and social shares without any effort!
3. Engaged Search Traffic
Between the great signals on the audit reports and some SEO elbow grease, our SEO audit page is now one of the top drivers of search traffic to our website.
4. Perfect Match Clients
Our team is focused 100% on Australian local SEO services. This fast flowing funnel of potential clients means we can browse the auditor dashboard and select the "perfect match" as a potential clients to contact.
With MySiteAuditor delivering on autopilot across list building, links, traffic and new clients, to say that I recommend it is an understatement!