Latest posts by Marvin Russell
(see all)
Our goal at MySiteAuditor is to help SEO companies, web design firms, and digital marketing agencies generate more sales leads than ever before using our embedded, white-labelled audit tool. And we're really good at it: to date, our tool has generated almost 250,000 sales leads for our customers.
We always try to help each and every one of our customers get the most out of our product, and generate the most sales leads possible for their agency. Yet even so there are huge differences between our most successful and least successful customers: our highest-converting customers convert over 30% of their visitors into leads, while our lowest-converting customers convert only around 1% (similar to your typical, boring contact form).
This really made us want to know: What makes our high-converting customers' landing pages so effective? How can digital marketing agencies use our audit tool to generate more leads than ever before?
While we could draw on our personal experience to answer these questions, we wanted to take a more scientific approach and let the answers come from real data. To do so, we worked with Strong Analytics (a data science consulting firm based in Chicago) to analyze each of our customers' landing pages with one of our audit forms on it using our own audit engine. These audits allowed us to characterize the content on the page, how fast it loaded, what kind of form they were using, and more (we audit for over 70 signals). They deployed cutting-edge machine learning classification algorithms to identify which page features predicted the highest conversion rates, leading to clear insights in to the factors that increased conversion rates.
Our analysis identified 9 critical factors that led to more conversions. Now, we could tell you about each of these 9 factors one-by-one but, in fact, we think our findings can be reduced to a much simpler story, and one with just 3 parts: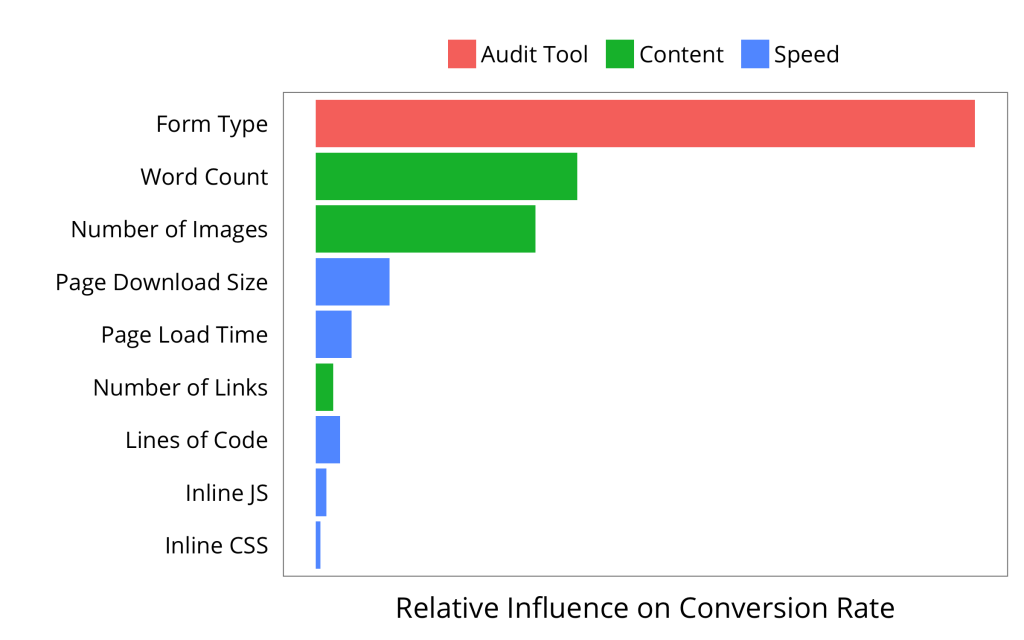 Here are the 3 key things you need to do to convert more of your visitors into sales leads:
1. Use our biggest audit tool, the 'Large' form
The biggest factor predicting whether or not your visitors will become sales leads is the type of audit tool you embed on the page. We offer 5 distinct forms of the audit tool to embed on your site: Large, Page Takeover, Notification, Small, and Slim. Each of these forms caters to different kinds of site designs and contexts, and we always recommend you use several across your page for them to increase effectiveness.
But the form that consistently converts the most visitors into leads is the form we ever released, the Large form. Our Large form converts 8X as many visitors into our leads as our other forms combined, with an average conversion rate of over 10% across all of our customers' landing pages.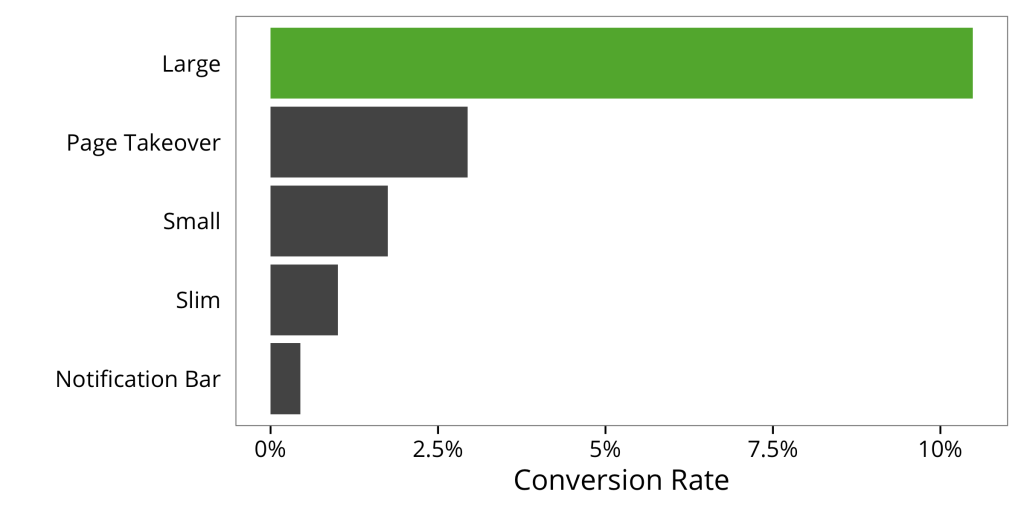 Our next best-performing form is also the one we most recently added, the Page Takeover form. It is converting about 3% of all visitors into sales leads — not bad, but still only 30% of the Large form!
The key takeaway here is that, while you should use several different forms across various pages on your site, one of these forms must be the Large form if you want to generate the most leads.
[att_highlight color="red"]Try MySiteAuditor Free for 10 Days![/att_highlight]
2. Let the audit form be the sole focus of your landing page
Our next biggest finding (indicated by several factors in our analysis) is that simple pages generate the most sales leads.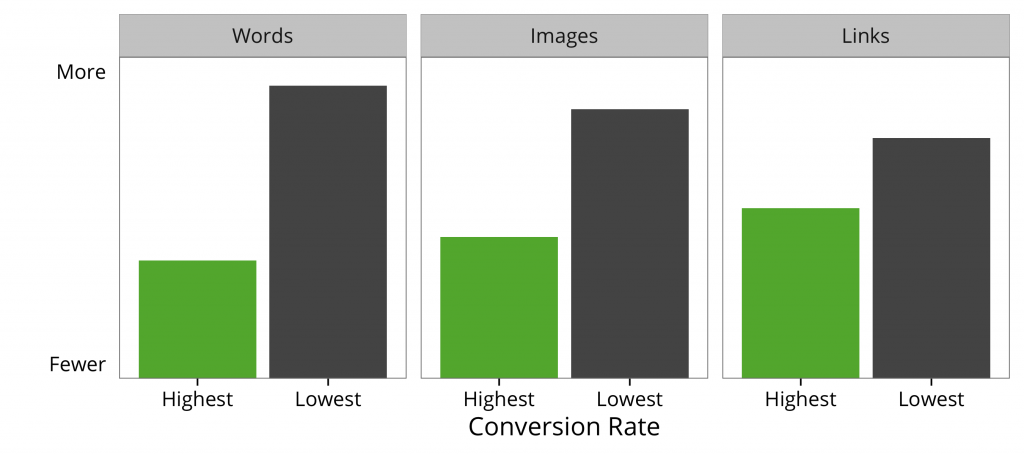 The most important predictor of high conversion rates after the kind of form embedded was word count. Pages with the fewest words (i.e., who only had our audit form and nothing else on the page) converted almost 25% of their visitors into sales leads. In contrast, pages with lots of words (i.e., who buried the audit tool amongst a mess of content) typically converted less than 5% of their visitors.
Likewise, the pages that converted the most visitors into leads also had the fewest images and the fewest links. The patterns here are startling: those with the fewest links and images converted over 20X as well as pages that were bloated with them.
So keep things simple! A little bit of text and an audit form goes a long way when it comes to generating more sales leads!
3. Make sure that your page loads quickly
The final features identified as most important by our analysis all had to do with how fast the landing pages loaded. Landing pages that loaded quickly converted over 5X as many visitors into leads as pages that loaded slowly. This effect of loading time was strikingly consistent: for each second the user had to wait for the page to load, the conversion rate dropped by almost 1%.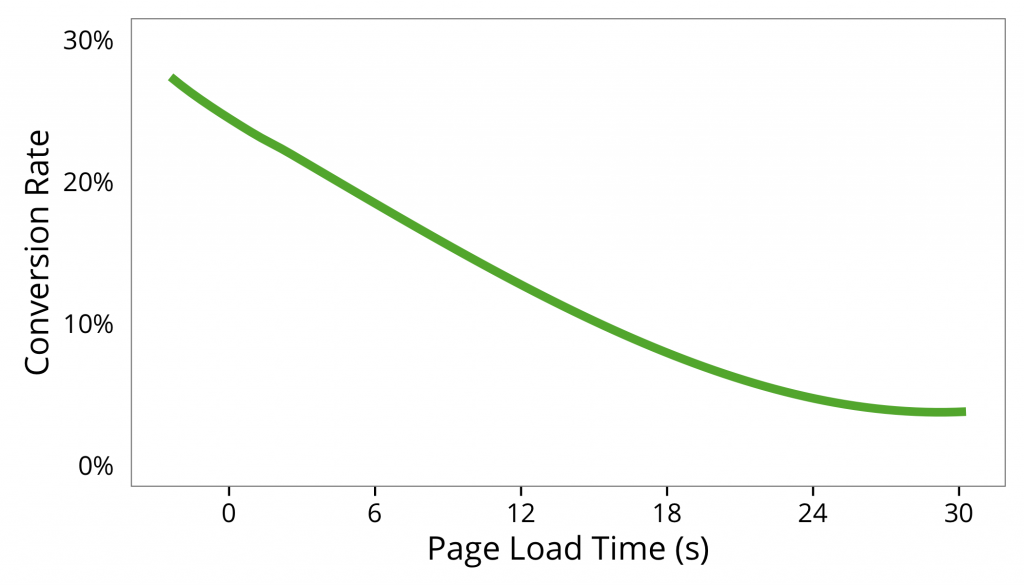 We also identified several sub-components that most affected loading time. Having inline CSS and JavaScript (which slow down pages because they can't be cached between requests) lowered conversion rates by about 5%, as did the overall number of lines of HTML, with the highest-converting pages typically having the least amount of HTML.
Of course, some of these features relate to the point we already made above about keeping pages simple: the simplest pages also load the fastest. But the fact that things like inline CSS and JavaScript (which doesn't necessarily affect page content) have such an effect on conversions suggests that these really are independently important features. Moreover, statistically, we see independent effects of both loading time features page content features.
[att_highlight color="red"]Try MySiteAuditor Free for 10 Days! No credit card required[/att_highlight]
Conclusion
Sales never come easy, but we've identified 3 seriously easy ways to generate the most sales leads for your digital marketing agency:
Embed our highly-effective Large audit form on your site (and maybe a few others too).
Keep your pages simple, with as few words, images, and links as possible. Every bit of content lowers the chances that your visitor will take the time to run an audit (and give you their name, email, and phone number in the process).
Make sure your pages load fast!