Latest posts by Jessica Kandler
(see all)
This week's #SEOprochat Twitter chat, hosted by @MySiteAuditor, focused on SEO account management – and we had a great conversation! Here's a recap of the chat, along with 10 tips for being a successful account manager. We hope you take some knowledge away from the chat – and join us next time!
We wanted to discuss account management as it's a very important facet of all good SEO, digital marketing, web design, and online PR agencies. Account management requires a high level of skill, and every person and every agency has their own methods, tools, and style for successfully managing and retaining clients. We wanted to hear from the community on their best strategies and advice.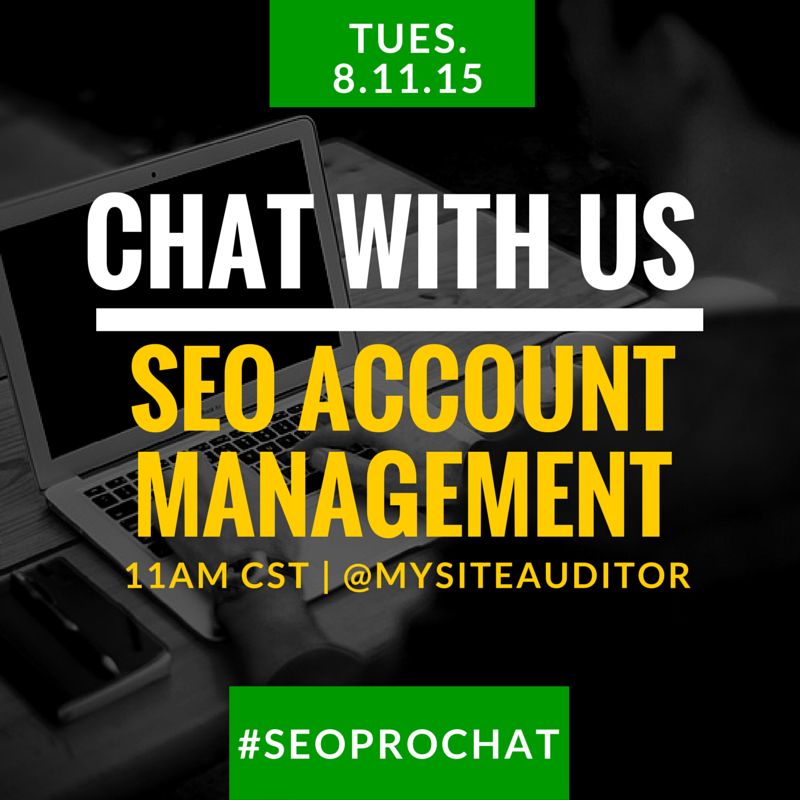 The levels of excitement were pretty high. It just wouldn't be a good Twitter chat without some solid gifs.
Thanks all for joining #SEOprochat today! Say hello + tell us how you're feeling. This is us: pic.twitter.com/OYcTZPmpFw

— MySiteAuditor (@mysiteauditor) August 11, 2015
Hey there, @mysiteauditor, we are certainly excited over here at @451Marketing in Boston! #SEOprochat pic.twitter.com/7o3cynximD — Mel (@mel_arroics) August 11, 2015
We started off the chat talking about useful tools for account managers. Our discussion centered on everything from project management tools to CRMs to SEO tools like rank tracking, seo audits, and keyword research.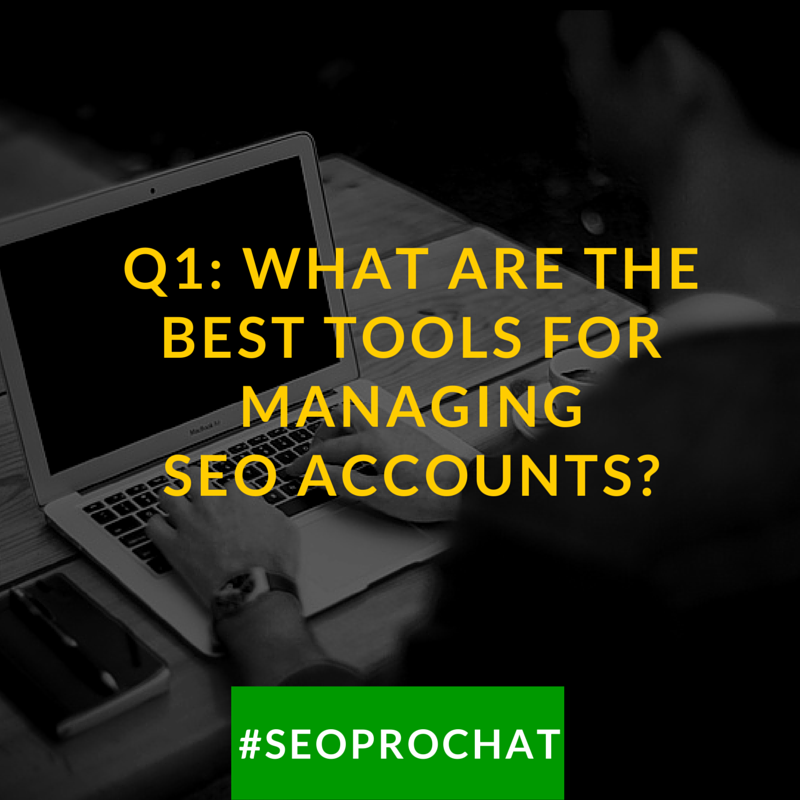 We learned about some great tools that some had heard of, and some they had not: 
–Basecamp: project management software that lets you set up projects and invite others to collaborate
–Insightly: CRM and project management tool that helps manage contacts and project timelines
–SEMrush: a suite of tools for conducting research, competitive analysis, keyword research, and more.
–Bright Local: manage local SEO campaigns by creating local citations and auditing and tracking local keywords
–Smart Sheet: a cloud-based project management tool that helps users collaborate, share files, and set up deadlines and reminders.   
A1: We like @positionly for rank tracking and are also fans of Basecamp. #seoprochat — Netvantage Marketing (@netvantage) August 11, 2015
A1: #SmartSheet. It is great for integrated accounts and allows clients to easily access files without digging in their inbox #SEOprochat

— Mel (@mel_arroics) August 11, 2015
A1: Keyword research tools like keywordtool.io. BrightLocal is also fantastic for local SEO clients #seoprochat — Michael Hall (@allmikehall) August 11, 2015
Next, we were curious on everyone's thoughts about what qualities successful account managers have in common. According to Smart Insights, customer relationship management is one of the most in-demand digital jobs today, and 30% of agencies say they're unable to find capable digital talent.
@mysiteauditor #seoprochat They have the ability to combine technical #seo knowledge with PR and content marketing.   — Stellar SEO|Travis B (@THESEOPROZ) August 11, 2015
A2: Persistence, but also patience! #seoprochat — Netvantage Marketing (@netvantage) August 11, 2015
A2: Time management, willingness to learn and an eagerness to keep up to date with what is new in the industry. #SEOprochat

— Mel (@mel_arroics) August 11, 2015
A2: The ability to withstand pressure from DEMANDING clients. #getmeonpage1NOW – #GRRRR#seoprochat — Marvin Russell (@marvinrussell) August 11, 2015
  RELATED POST: 20 Crazy Questions From 20 Crazy Clients  
One important aspect of account management is managing client expectations. In our experience, how account managers handle managing client expectations makes or breaks a relationship, as well as the ability to create a partnership long term. Because SEO is such an ever-evolving industry, we think it's important to define growth expectations early on in a relationship, measure success and adapt expectations throughout campaigns, and constantly communicate – both negative and positive results. 
This is a big one for #SEO account managers. #SEOprochat pic.twitter.com/7mzJGvcb4g — MySiteAuditor (@mysiteauditor) August 11, 2015
Q3: Under promise and over deliver. #seoprochat @mysiteauditor — Funnls.com (@Funnls) August 11, 2015
A4: Never stop learning. #SEO is constantly changing so if you want to do well in this industry, you have to want to keep up! #seoprochat   — Netvantage Marketing (@netvantage) August 11, 2015

451 Marketing SEO Account Manager @mel_arroics talks proper client expectations in @mysiteauditor's #SEOprochat: https://t.co/F0qPsCHPNn

— 451 Marketing (@451Marketing) August 11, 2015

 
One thing we were curious about was everyone's best tips and advice for new SEO account managers. A few common ideas emerged, including being on top of latest trends in the industry and constantly testing tactics.
A4: don't assume the client understands. Listen to their needs, then explain your methods and goals. Repeat. Repeat. #SEOprochat — Catherine Russell (@hireCatherine) August 11, 2015
#seoprochat A4: don't believe the hype. Test everything and keep detailed records of your tests. Always be testing and tracking!!

— Stellar SEO|Travis B (@THESEOPROZ) August 11, 2015
A4. Read everything, but check dates before you read. SEO evolves constantly. Study how to read and use analytics data. #seoprochat — Courtney Herda (@CourtneyHerda) August 11, 2015
We also talked about the best ways to make sure SEO clients keep coming back for more. It was mostly agreed upon that SEO is a constantly changing industry and a long term strategy, so keeping clients on board with that is a challenge all account managers face. Here's the advice that was shared for our question: what are the best strategies for resigning SEO clients?
@mysiteauditor The most effective technique – Do a damn good job for the client, communicate everything on a regular basis #seoprochat

— Jeff Smith (@affmarguru) August 11, 2015
A5: Always go above & beyond clients' expectations. Even if you don't see immediate results, having a clear concise plan helps. #SEOprochat — Mel (@mel_arroics) August 11, 2015
RELATED: Free SEO Contract template dowload
How often should account managers connect with clients? It was up for debate.
A6: Depends on the client. Some want to talk every day, others weekly or monthly. Define a mtg schedule at the onset #SEOprochat

— Jessica Kandler (@JessicaKandler) August 11, 2015
@mysiteauditor A6: there are 2 major approaches: 1. Every time client needs (fatigue); 2. Set pre-scheduled weekly synch calls. #SEOprochat — Val Vesa (@adspedia) August 11, 2015
@mysiteauditor I like to connect no less than once every 2 weeks. more in the early stages. #SEOprochat

— Jeff Smith (@affmarguru) August 11, 2015
@mysiteauditor I agree with @JessicaKandler, depends on client. Some clients we don't talk to for months at a time. #seoprochat — SEOnational.com (@SEOnational) August 11, 2015
Plus, Mel pointed out how account managers must balance devoting meeting time not just with clients, but also with internal agency teams.
A6: And let's not forget about internal meetings, especially on integrated accounts. #SEO #PPC #SocialMedia #PR #Integration #SEOprochat

— Mel (@mel_arroics) August 11, 2015
Overall, we had a great discussion and loved everyone's insight. It's so important to hear from our audience and to share knowledge and tips with other account managers and SEOs. Thanks for everyone's participation!
And to Alycia for jumping in with a few answers at the end!
A1: Excel – A2: Research – A3: Experiment Together – A4: Track Everything – A5: Killer Reports – A6: Weekly Reports #SEOprochat #late2party — Alycia (@artdecotech) August 11, 2015
  You guys, we're blown away by your participation. Wrappin' up today's #SEOprochat pic.twitter.com/5FGfjGmr8G   — MySiteAuditor (@mysiteauditor) August 11, 2015
#SEOprochat takes places every other Tuesday at 11am CST on Twitter. Follow @MySiteAuditor and search the hashtag #SEOprochat to join! If you want to find out topics in advance (and RSVP to let us know you'll be there!)  visit mysiteauditor.com/blog/seoprochat.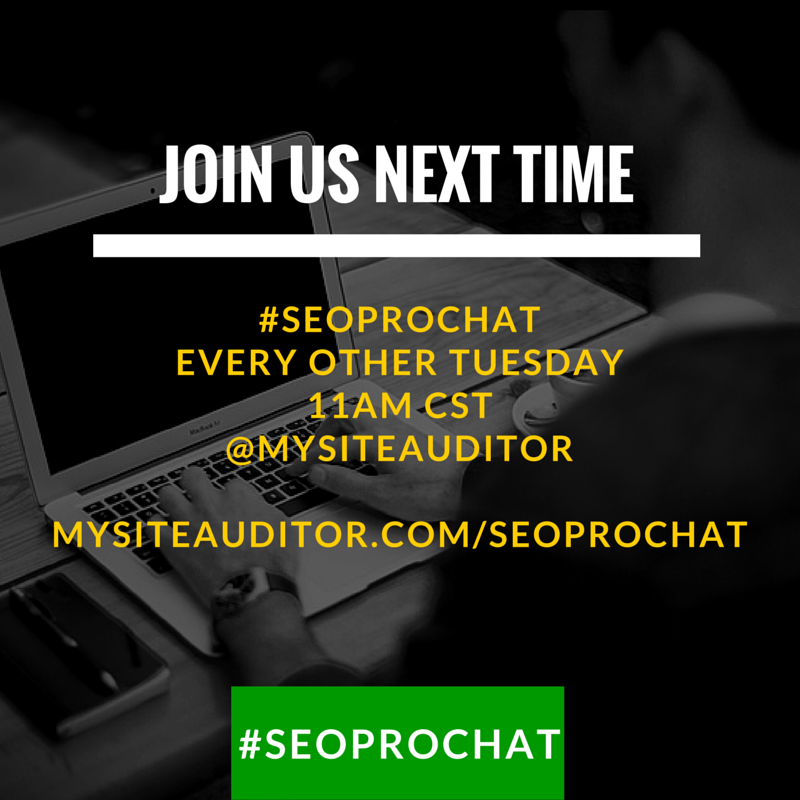 ---
10 Tips For Being a Successful SEO Account Manager
1. Always be sharpening your skills and knowledge
SEO and digital marketing is a constantly changing industry – we can all agree on that. Successful account managers are constant students, doing everything they can to stay on top of latest news and trends. Bookmark leading blogs like Moz, Quicksprout, Hubspot, and Marketo, and set aside time to just read daily. Also participate in groups, training sessions with coworkers, and connect with like-minded folks on social media to share tips and advice.
2. Define your communication style
How often you touch base with and report to your clients will largely depend on your clients' preferences. Some clients are more interested in speaking frequently, while others want regular, though less frequent, check ins. The important piece for any account manager is to openly discuss this with your client at the beginning of a relationship – just ask what they prefer. Also balance what requires a pre-scheduled call, a quick unscheduled call, or just an email by the matter's timeliness and importance.
3. Set client expectations
Setting client expectations can be difficult, but it's best done at the onset of a new relationship. Lay out realistic growth goals on paper and refer to them regularly throughout a relationship so that there's no confusion. It can also be useful to periodically ask your client openly if you're meeting their expectations, as sometimes clients may say they're perfectly happy but end their contract the next day. It's fine to reiterate and adjust expectations throughout an ongoing campaign – the key is making sure everything is crystal clear to your client.
4. Stay organized
Discover the tools that work best for you, and utilize them efficiently. Having a good inbox organization strategy will help keep you on top of your numerous client emails – I like to set up labels by client, and also a follow up or important label for time-sensitive messages. Also test different project management software that lets you keep everything for your client campaigns in one place.
5. Become an analytics expert
There's no way an account manager can successfully implement a campaign for a client without knowing how to measure it. Use every resource at your disposal to become an expert in all things traffic, conversions, and revenue – you'll need it in order to show your value, progress, and instill confidence in your client. There are tons of resources out their, from Google analytics certifications to SEO trainings.
6. Listen to your clients
Successful account managers listen to their clients' goals and fully understand what the client is trying to achieve. You may disagree with a certain priority here and there, but ultimately it's your job to help them meet their goals, no matter what. You can – and should – absolutely make recommendations outside of those needs and wants if it makes sense, but don't alienate a client. Be sure to ask a lot of relevant questions and really dig into their company and industry.
7. Be personable!
Nobody wants to work with a robot – it's true! Sometimes new account managers feel like they need to don extremely professional and rigid personas in order to be taken seriously, especially when working with bigger clients with large budgets. But, in reality, you're working with other people who also have lives and personalities. It's totally ok to be personable and discuss weekend plans or ask about a client's family (if they bring it up) – in fact, it strengthens relationships.
8. Create awesome reports
Providing your clients with regular reporting is key to ensuring they see your value and to proving progress on a given campaign. Awesome reports include the metrics that matter (which should be clearly defined at the start of a campaign) and should be presented in a way that's visual and easy to understand to the client.
Not only should you focus on creating awesome reports, but also learn how to review them with your client – understanding what to highlight, how to discuss your conclusions, and how to be convincing when making recommendations is definitely a skill account managers should hone.
9. Strategize, test, and adapt
Don't be afraid to be creative when developing new strategies for clients – no one ever made waves by just following the status quo. SEO is constantly changing, and staying ahead of the curve will not only help you achieve better results, but will make you shine in your clients' eyes. Part of being a good account manager and strategist is testing – whether that's content, keywords, landing pages, etc. – and adapting to trends.
10. Work collaboratively
Often times as an account manager your work overlaps with others' both internally and externally. Work collaboratively with your coworkers and with your clients' marketing teams to ensure your campaigns are integrated to maximize their effectiveness. The better a team player you are, the better you can implement a fully integrated and cross-channel strategy to produce real results.