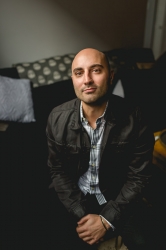 Latest posts by Niko Vergis
(see all)
Daragh Walsh, a marketer and online instructor at Complete Digital Marketing Course, is one of our most active and successful users at MySiteAuditor. In this post, we've invited Daragh to share his journey. Daragh not only uses MySiteAuditor as an SEO lead generation tool, he has found that the can sell the reports directly to customers to generate some additional revenue.
MySiteAuditor helped me become an entrepreneur. It started when I came across Fiverr, a marketplace for digital services. I was trying to see a way in which I could join that community and offer something of value. I knew I was interested in SEO, specifically, but it wasn't clear to me what I could offer…
Then a lightbulb went off!
I could purchase a membership from MySiteAuditor and resell custom SEO reports for $5! People loved the reports because it was a cheap and efficient way to see what was wrong with their site. I easily paid for the monthly subscription with the reports that I sold and — most importantly — it opened the door to freelance work.
Fast forward one year and I documented my SEO processes into an online course on Udemy.com. I include a MySiteAuditor report as an exclusive bonus for students so that they can see specific problems with their sites that they needed to address.
I also use MySiteAuditor as a lead magnet for my online courses and direct traffic to it from my blog, Quora, and other sources. With a 97% conversion rate!, MySiteAuditor has converted better than any other lead magnet I've tested – I'd recommend it to anyone!
If you would like to join 30,000 students and learn more about SEO and digital marketing from Daragh, check out his "Complete Digital Marketing Course – 12 Courses in 1".