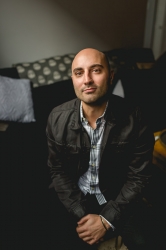 Latest posts by Niko Vergis
(see all)
Steven Matt has been a member of MySiteAuditor since January 2017 and is the owner of Tell Me Your Goal in NYC. Below is a short story how MySiteAuditor skyrocketed his growth.
Every time I read a testimonial for a company that sounds too good to be true, I wonder if it's real or if it was paid for by the company.
Well, I can assure you that I'm a real person and that I wasn't paid by MySiteAuditor to write this. I really do love their product.
I've been in the SEO business since 1995 when I built my first website a small boat dealer in Arizona. Since then, I have worked as the Vice President of Digital Marketing JPMorgan Chase & Co. and for some of the top NYC advertising agencies as a Digital Producer. I'm currently the Director of Digital Marketing at First Data Corporation in NYC. In the evenings I teach Digital Marketing at General Assembly and for NYC Business Solutions.
As if I don't have enough going on after work, I run a small SEO agency that focuses exclusively on onsite optimization work; it's the type of work that combines the art and science of SEO: keyword analysis, competitive analysis, and lots of persuasive copywriting. And it's the type of stuff I can do at night when my daughter and wife are sleeping. It's a way for me to unwind and unleash some creative energy.
From the time I launched the business back in 2014, I relied exclusively on lead forms on my Squarespace site. They were OK. I don't do any advertising. I receive decent traffic from a variety of sources including Yelp, organic, partners, and my Email campaign. But my conversions were about .25%. And a lot of that was spam.
Around the end of 2015, I started looking for a tool I could use that would persuade a prospect to give up their contact info while on my site. I wanted to offer something of value and in return, I wanted their contact information so I could close them or nurture them.
That's when I came across MySiteAuditor. I went all in. I implemented it on every page starting in January of 2017. I also added a bar that appears at the top of my site with a CTA to a landing page with the auditor tool. I posted a link to my landing page on social media, ran an Email campaign, and asked my partners to ad the lead form on their sites. As a result, my conversion rate skyrocketed to 1.23%. That's almost 5x what I was yielding before.
I consider the leads that come through the auditor tool to be sales-qualified leads, so my sales manager immediately reaches out to them. With these combined efforts, my closed/won rate consistently hovers around 20%. I'm happy to say that I'm having the best year yet and currently generating more than $25,000 per month in revenue.