Latest posts by Sureswift Support
(see all)
We're hitting the open road for 12 hours this Sunday to attend SMX East 2013. We made the decision to go earlier this week after determining that is was just too big of an opportunity for us to miss. At SMX we'll be officially debuting our SEO audit tool. We're so pumped to show the industry how we can help them increase SEO leads by embedding our SEO audit tool on their site, and how white-labeling their SEO audits for prospective clients can really boost sales. Tell us below if you're attending, then stop by our booth to meet me and learn more about the tool.
Preparing for SMX East 2013
The last week has been the craziest week since we launched six months ago. I've been making small design and copy tweaks to the site, our developers have been fixing little bugs here and there, I've updated our Tour page to "perfection", we're finalizing launching a really cool, totally awesome WordPress plugin before we leave, and mostly doing all the things I never knew I had to do when attending a big conference like this.
What I'm learning by having our 1st conference booth at the SMX East 2013
Conferences and trade shows are expensive but seemingly worth it. If you're cheap: Stay home 🙂

Talk to someone with trade show experience! (friend, family member)
Internet costs are ridiculous! ($1,300+ for 2.5 days) BUT, I've heard nightmare stories about people who relied on hotspots and got burned. (Hey, I mad a joke. ha!)
You don't need padding under your rug unless people will be standing in your booth for long periods of time.
Register early. I am missing an opportunity to do a theatre presentation because I waited so long to sign up. (

Anyone got

a hook-up?)
Meet with a team of people to discuss your signage strategy. DO NOT DO THIS ALONE! Two heads are better than one.
Draw out your booth. I did. Look below.
Ask what other vendors you're next to. I've been told this may come in handy.
Have a main objective that is quick and that you want everyone who comes to your booth to know.
Give something free away. Be creative. Pen

are

so 10 years ago.
Have other people proof-read your signs, handouts, and all other literature.
Find out who the attendees are for this conference and what they are there to buy, find, or accomplish.
Get your 10 second and 30 second sales pitch down!
Create a cheat sheet for your assistants so they can clearly communicate your products or services as well as you.
Crash on a friend or relative's floor if ya gotta. (wink)
Google "trade show booth designs" for ideas.
Look for images or videos from previous years.
Order as much as you can on Amazon.
Bring tools, velcro and duck tape for the unexpected.
Bring extra power cords.
Make lists for everything.
Ask what you're allowed to carry in. (Unions!)
Try to make more money so you can pay someone to do this for you next time.
Enjoy the ride.
Don't regret not going after it's over.
Look for this booth – lol – #313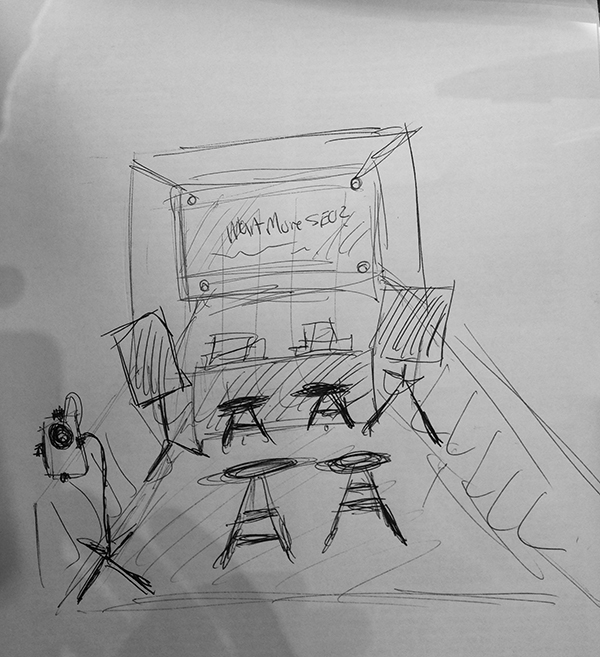 (Hey, we're on a budget)
Are you attending?