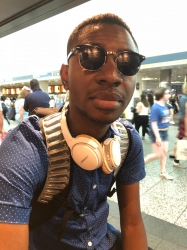 Latest posts by Andre Harris
(see all)
The internet can be a confusing place. One minute, your website's popular, the next, you're drifting behind the competition. But if your SEO strategy is in place, shouldn't you be on top?
The answer lies in the effectiveness of your SEO strategy. Some of your existing tactics might not be enough to impress Google and other search engines, and could benefit from some much-needed improvements. And what's the best way to work out the effectiveness of your SEO strategies? The answer is your SEO score.
Your SEO score can reveal a lot about your website, helping you identify areas to improve, so you can adjust your strategy accordingly. And the good news is that it's easy to get your SEO score.
In this post, we'll show you how you can boost your website's performance with an instant SEO score report.
Understanding SEO Score Reports
An SEO report provides information about your website's search engine performance. It's based on several factors to give you a clearer indication of your website's visibility and search engine rankings. The higher your SEO score, the better your page is performing.
SEO score reports are made up of the following components:
Overall SEO score
Your overall score provides a summary of your website's SEO. A high overall SEO score shows that your SEO is healthy and that your page is performing well.
On-page SEO analysis
On-page SEO is used to examine individual web pages and will take into account elements such as:
Title tags

Meta descriptions

Header tags

Keyword usage

Content quality
Additionally, on-page SEO can uncover any potential issues that require improvement to enhance the score, including identifying missing meta tags.
Off-page SEO analysis
Off-page SEO relates to the elements that establish your website's authority, including backlinks, social signals, and online mentions.
Technical SEO analysis
Technical SEO is an important element of working out your SEO score, focusing on elements such as your site speed, mobile-friendliness, site structure, and crawlability. It can help flag any issues such as broken links or slow-loading pages.
Keyword analysis
Keyword analysis details how well your website has been optimized for specific keywords. This can include elements such as keyword density, keyword ranking, and search volume. 
Content quality assessment
Content quality is vital for a high SEO score. It analyzes the effectiveness of your content, including readability, relevance, and uniqueness. 
Competitor analysis
A competitor analysis can give you a clearer indication of how your website is performing compared to your competitors. Some of the things that are analyzed include your competitors' keywords, backlinks, and overall SEO score. 
Site structure and linking
Your site structure and how pages are linked to each other are important for user experience and will help make up your overall SEO score. 
Mobile-friendliness
Mobile devices make up more than 55% of web traffic sources, making mobile-friendliness crucial for any website. The more mobile-friendly your website, the better it will score.
User experience and page speed
A positive user experience and fast page speed will help boost your visitor numbers, but they will also help improve your SEO score. 
Crawlability and indexability
A search engine can't find your website if there are pages that are blocked or inaccessible. The crawlability and indexability of your website need to be high to score a high overall SEO score.
Recommendations
Finally, the best SEO score checkers will provide you with recommendations for how you can improve your score. This can include detailed recommendations for each of the sections above, allowing you to create an improvement strategy. A breakdown of recommendations will help you identify the things you're doing well and your weaker areas to help you concentrate your efforts in the right places.
Gathering Data for SEO Analysis
SEO analysis data comes from several sources to help provide the most accurate and relevant website data. Some of the most popular SEO analysis data sources include:
Website analytics
Website analytics tools, such as Google Analytics 4 (GA4), provide a lot of insight into a website's performance. From visitor behavior to traffic sources, it's possible to learn how users engage with your website, while identifying where the highest-performing content is, and which areas of the website need improving.
Keyword research
While there are now many things that contribute to a higher SEO score, keywords continue to be of high value. Keyword research can help identify the most relevant keywords for a website's niche, allowing you to focus on creating content that aligns with your target audience's search queries. 
Competitor research
Competitor research is another key data point for creating an SEO score report. Analyzing the competition, including their backlinks and top-performing content can help give you a clearer indication of what's popular, and what areas you need to improve to enhance your own website and grow your business.
Gathering data from multiple sources allows for more informed decision-making, allowing you to develop an SEO strategy based on facts, instead of speculation. You can also use this data to adapt to new trends and shifts in the market to ensure you're always ahead of the curve.
Selecting an SEO Audit Tool for Instant Reports
There is an abundance of SEO audit tools available to help provide instant SEO reports, but how do you know which one to choose? Some factors to consider include:
Does the tool cover a variety of components? An effective tool should cover everything from keyword to site structure and mobile-friendliness to help create accurate reports.
An effective SEO audit tool will track issues over a certain time period to help you assess the effectiveness of any improvements you make. 
Some tools will provide you with automatic updates to alert you to any changes in your SEO score.
Ease of installation and use
Is the SEO audit tool easy to install and use? A reputable SEO audit tool should be quick and easy to set up, and simple to use once in place. 
If you need help with your SEO score or are having issues with your reporting, then there must be support on hand to help you through it. Support can also be vital to help you learn how to use the tool properly, while also being there to inform you of any changes and updates to your services.
Pricing can play an important role in choosing your preferred SEO audit tool, but it shouldn't be the only factor. A free instant SEO report tool can be handy to check the SEO score of a website, but it's important to be aware of the features that are offered. A paid-for solution may have more options that are more aligned with what you need. Consider your budget and the features offered to help you find the best value SEO score checker for your needs.
Generating an Instant SEO Score Report
Different SEO audit tools work in different ways, but most will allow you to find out your SEO score quickly and easily. MySiteAuditor has its own handy instant SEO score reporting tool – all you need to do is enter the landing page or blog post URL and enter a keyword it should be optimized against. It takes just a couple of clicks, and you can have your SEO score report in your inbox in no time!
An instant SEO report will scan elements of your website, analyzing the factors like those outlined above. You'll receive a report that is easy to understand and gives a clear snapshot of your website's health. From here, you can decide how you want to proceed to enable you to make those much-needed improvements.
Analyzing the SEO Score Report
Once you get the results of your report, it's time to analyze your website's SEO score in more detail. Your score will be divided into different sections, such as those included at the beginning of the article, with each section broken down to highlight what is working well and what needs to be improved.
Having your SEO website report will give you a much clearer indication of how your website is performing. From small business owners to freelance developers, this information can make a significant difference to your website's layout, performance, and content. 
Over time, you'll be able to widen your monitoring period, ensuring you get the most up-to-date information from your audit report. 
Interpreting the SEO Score Results
Once you've received your SEO score report, you can take a closer look at the results and see what they mean for your website's SEO. There are several steps to this process that will help you make sense of your results.
Understanding your score
An SEO score usually ranges between 0 and 100. A good SEO score is generally considered to be between 80 and 100, and will indicate that your website is meeting a high standard in areas such as mobile-friendliness, UX and content. However, even a score in the 80s can still leave room for improvement.
Meanwhile, a bad SEO score is considered to be 30 or less, suggesting that significant improvements need to be made. This can be due to a lack of usability for mobile devices, as well as other serious issues such as slow landing speed and poor content design. 
For scores that range between 30 and 80, there will be some mixed results, with both things you're doing well and things that aren't doing well. You'll be able to improve upon these things to help improve your score.
Analyze each metric
Your SEO score report will give you a detailed breakdown of the individual metrics that make up your score. Pay attention to each one in turn, as they'll give you a clear idea of the things that are working for your website (that you need to keep up) and the things that need your attention. You may need to work on areas such as on-page SEO, backlinks, crawlability and more to improve your SEO score report.
Even if you have a low score to contend with, in many cases it can be simple to build your score up quickly and see a dramatic improvement in your website's SEO.
Taking Action and Implementing SEO Recommendations
With a clearer idea of how your website is performing, you can determine your next steps. Focusing on the metrics with the lowest scores, you can start prioritizing actions to help improve your SEO. Creating individual strategies for these areas can give them the attention they need to see an improvement, such as making your website more mobile-friendly or improving the content on your pages.
Many of the areas marked for improvement will require some expertise to get right. Whether this is developing backlinks or creating new, engaging content, make sure you have the right people taking responsibility for these areas. Consult with experts to help ensure your website is getting what it needs to show some improvement.
Remember that this is an ongoing process and you'll need to re-assess your SEO score regularly to measure your performance and track the effectiveness of your strategies. Over time, the improvements you make will help to boost your SEO score report, and help you improve your search rankings to generate more leads and better results for your business.
Case Studies and Success Stories
There are some fantastic case studies and success stories to help show the effectiveness of using different metrics to help boost SEO and see huge improvements in website traffic.
Saramin
Via Google.
Saramin is a jobs website based in Korea, that posts job listings, as well as information about companies and information like their salaries. They're also championing AI services to help improve candidates' interview skills and more.
Google has highlighted how Saramin has used its Google Search Console to make improvements to organic traffic. By identifying issues such as crawling errors and indexing, Saramin had been able to grow traffic by 15% in a matter of months.
Further improvements came from removing ineffective meta tags and getting rid of duplicate content. This led to some significant improvements in their scores, ensuring the website's traffic continued to improve. During its peak hiring season, Saramin achieved more than double the traffic of its previous year, achieving a 102% increase in organic traffic.
Escape the Room
Via HawkSEM.
Escape the Room is a live game experience where people have to solve puzzles against a ticking clock to be able to 'escape the room.' It has multiple locations, operating in more than 18 different cities.
Escape the Room sought the services of HawkSEM to help maintain its digital footprint, following some challenges with its marketing strategy. Faced with a lot of competition, it became important to focus on local SEO and make website improvements to help outperform the competition. Some of the areas they improved include:
Metadata – using title tags and meta descriptions to help improve organic searches.

Page load speeds – an increase in speed helped boost performance, while also helping to improve mobile responsiveness.

High-quality content – new content helped create more interesting and relevant resources for website visitors, which not only helped improve SEO score, but also provided visitors with content that was useful and informative, helping to boost conversions.
The results from these efforts saw Escape the Room enjoy a peak impressions share of 62%, achieve more than 4 million monthly impressions and an account-wide ad position of 1.1.
This case study shows the effectiveness of drilling down into some of the tricky problem areas to help see some major improvements in website SEO score reports to achieve better traffic from Google and other search engines.
Edelweiss Bakery
Via Semrush.
Edelweiss Bakery is a small artisan bakery based in Fort Lauderdale, that had ambitions of improving its online search traffic. Working with an SEO agency, Why SEO Serious, they set about to improve the website's technical and strategic issues to help improve results. This included:
SEO optimization

that consisted of link-building opportunities, improvements to website structure, better keyword strategies, meta title and tag optimization.
Content optimization

by boosting the website's blog and creating relevant, impactful blogs to provide value to visitors. This included SEO-friendly content.

Ecommerce optimization

that included the launch of an ecommerce page, product cards and specific ecommerce analytics.
While Semrush believes seven months is the typical timescale to see results from SEO improvements, Edelweiss saw results in four. Over this time, the improvements made saw a huge 214% increase in organic traffic. Mobile traffic also increased by 460%. 
SEO remains a vital tool to help business improve their online visibility and help boost their sales. And while SEO can be a mystery for many people, using an SEO score report helps cut through the huge volume of information to quickly and clearly explain how a website is performing. Using the right SEO score checker, and SEO website report can provide some valuable insights that will help a website improve its search engine rankings, while also providing visitors with a better user experience, and better quality, relevant content.
At MySiteAuditor, we provide effective, detailed SEO scores to help anyone improve their website. Our SEO audit tool will present your score and highlight the areas that need improving, allowing you to put a strategy in place that will help you boost your score and secure better results for your business. Check out the best SEO audit tool to give your business the helping hand it needs to stand out online.