Latest posts by Sureswift Support
(see all)
These are five really cool ways you can build links to any website using fiverr.com. If you haven't heard of fiverr, I'm not entirely sure you should be in the digital marketing business, but I'll explain it anyway. Fiverr.com is a website where you can find an assortment or services for $5. From advertisements to graphics, and from tweets to videos, you can get the coolest, most useful, and sometimes just zany things done. That includes building links.
What I'm about to show you should be done carefully. Like everywhere else online, there are spammers on fiverr who will take advantage of you, so always use good judgement. Always ask to review the site before putting your link on it. The last thing you want to do is add your link to a spammy website. Again, if you use good judgement you'll be fine.
1. Get an Article Written About You
Start by searching fiverr.com for something like "article link", "post link", or look under the "advertising" category and an array of people will pop up who would love to write an article on their blog about you, your website, or you clients website. I'm sure you can pick the topic, whether it be fun, serious, enlightening or just informative.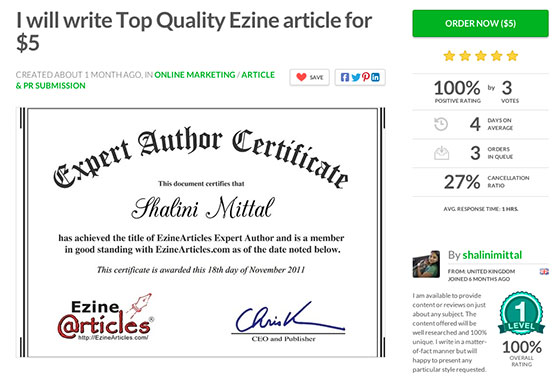 My Advice:
Clarify that you are getting a link

Clarify that it is a follow link
Ask to see the site
Search Google for the site to make sure it's not banned
Free Google banned site checker http://www.iwebtool.com/google_banned)
2. Shares (Tweets, Mentions and Likes)
Social mentions of your website are awesome signals to search engines that your website or web page is totally cool and they should rank it a lot higher. Social mentions also turn into really valuable links if done very well. For example, let's say you find someone to share your new app, product, or service with 6,000 of their followers; well the more eyes, the better chance someone will link to it.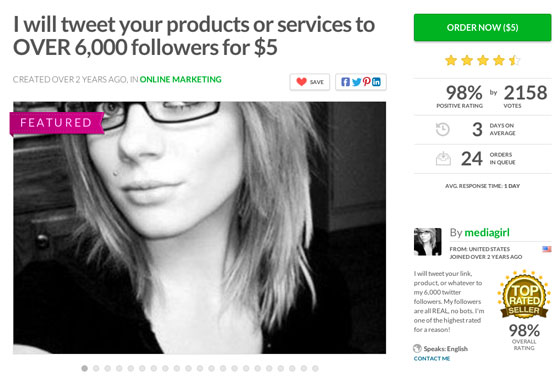 3. Straight Up Link
Yes, you can find people who will just link to your website for $5. Start by searching fiverr.com for "link" or "link from my site". BOOM! Lot's of people will pop up and offer to put your link on their website. It's that easy.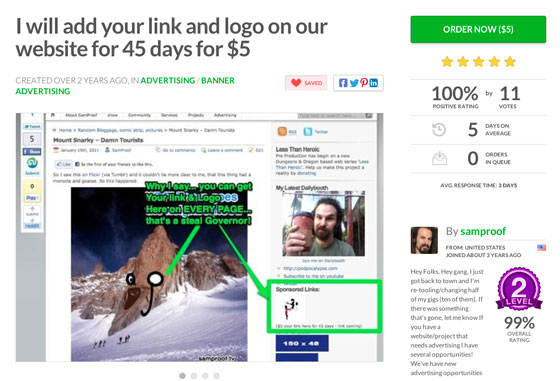 My Advice:
Try to get a link for 30 days, if not permanent (otherwise, Google may not count it)

Ask to review the site before you post your link on it (make sure it's not banned from Google)
Try to find a website related to your industry
4. Find a Guest Posting Opportunity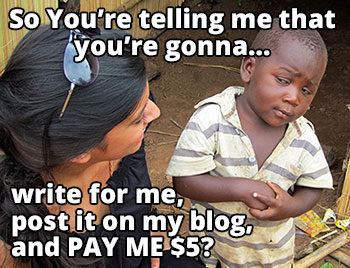 Yup, you can also find websites to guest post on. Blogs are like newspapers, writers are always looking for good content to write about. Now, those bloggers have a way to find good content, someone to write it for them, AND they get $5! That's a win for you and for them.
Start by searching fiverr.com for "guest post" "write for us", then find a guest blog opportunity that's right for you.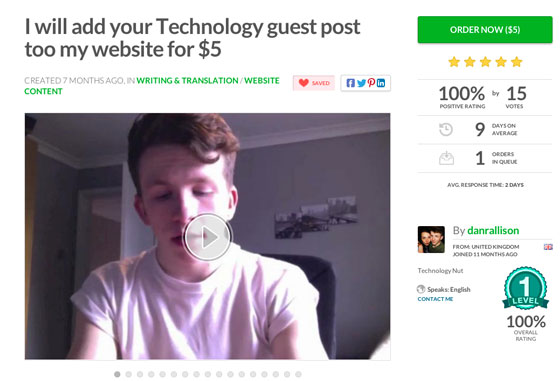 5. Ask for a Review
If you're selling a product or promoting a new app or website, ask for a review. There are lots of fiverrs who will gladly review your product, service, app or website for 5 bucks. In that review, there should be a link to your website or product. However, if what you're pushing stinks be cautious of a negative review. Sometimes you get what you wish for, so be careful.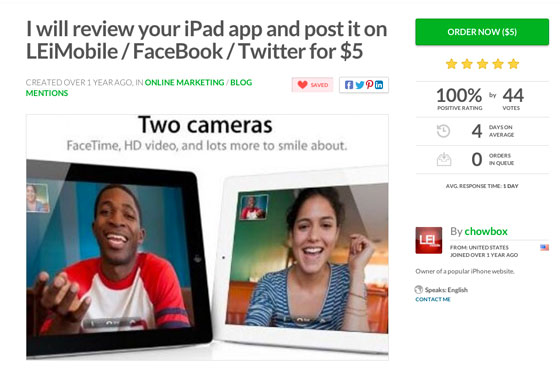 My Advice:
Don't pay for a positive review (that's illegal) – Just ask for a review and hope for the best

Ask if they will link to your website or web page in the review
Ask if you can see the website where they will be posting the review (always good to check)
Conclusion
Fiverr.com is awesome, but be cautious. Don't abuse these techniques or you'll pay for it down the road. Also, fiverr.com is great for so many other things. Dig around, but be careful: you can get lost in the sea of great things people will do for 5 bucks.