Latest posts by Marvin Russell
(see all)
Below are five of the easiest and most commonly missed SEO tactics that anyone can do. They are so easy and so effective that I can't believe "SEO companies" and website owners actually miss them. So, when you're done reading this post open up your website and check to make sure that these 5 SEO tactics are done properly. If they haven't been done, spend less than a day doing them. They are non-technical, so there's no excuse, except laziness. In fact, you can use our free SEO audit tool to check for each one of them.
1. Logo Optimization
Optimizing your logo is so effective and so easy to do, yet many SEO companies and website owners still miss this one. Of course, your logo should link to your home page because this is a usability and industry standard. That being said, your logo should be optimized for the key phrase you're targeting on the home page. For example, if you sell pizza in New York City don't name your logo "logo.jpg". Help Google understand your website better by naming your logo file "nyc-pizza.jpg" or "nyc-pizza-delivery.jpg". In other words, name the file after what ever key phrase you're targeting. Don't forget to use dashes instead of underscores.
In addition to file names, don't forget to add your alt tag as well. The alt tag should also be named using your home page targeted key phrase. That is how you optimize your logo. I told you it was easy.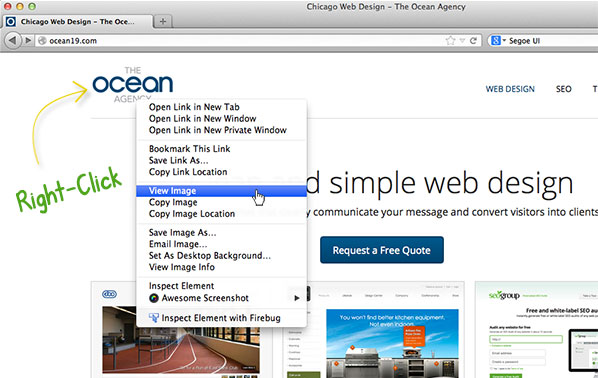 Chris Smith wrote a great in-depth article on logo optimization on Search Engine Land recently. Check it out.
2. Image Link Optimization
When you are link building for yourself or a client, build some of those links using images. The popular and common thing to do is to link your targeted key phrase to the web page you are optimizing, but that should only be part of your strategy. When you build links with images, don't forget to optimize those images. This can be a little tricky because sometimes you don't have control over someone else's website. You may have to beg or grovel a bit, but it's worth it.
Optimizing your image link is very similar to how you optimized your logo above.
Name the file using your targeted keyword or phrase (remember, no underscores)

Add an alt tag using your targeted key phrase
Link to your targeted web page
3. Bold, Italicize or Underline Keywords
This one is so easy, but people always miss it. Google wants to know what you are emphasizing to your users. They can tell which words you emphasize by looking for words or phrases that are bolded, italicized, or underlined. This gives them a better indication of what that particular web page is about, leading to higher rankings.
4. 2,000+ Word Pages
Neil Patel first brought this to my attention in a blog he posted a while back. He noticed that web pages with 2,000 words or more overwhelmingly ranked higher onpage #1 of Google. This doesn't mean to start throwing a ton of crappy content on your pages. Be strategic, informative, clean, and simple. Here's what Neil had to say: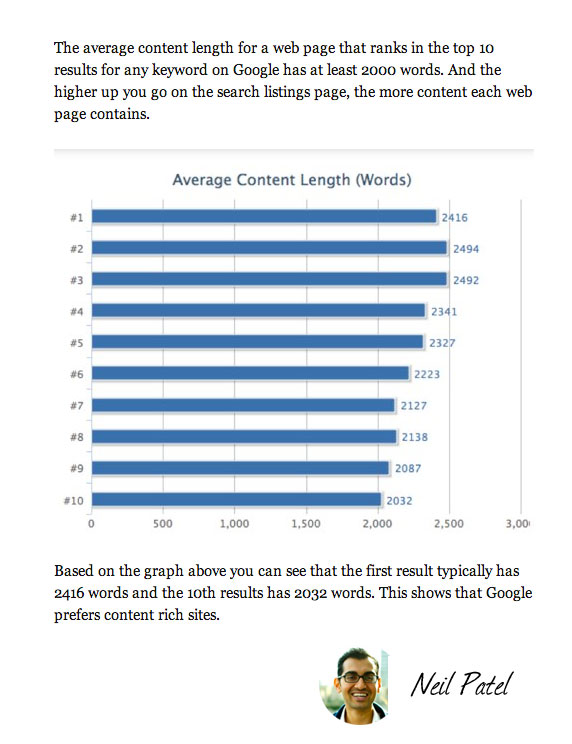 Don't over stuff those 2,000 words with your targeted key phrase. Moz.com did a study a while back and found that using your targeted key phrase 2-3 times was most effective. Keyword density was not as big of a factor.
5. Link to Authoritative Sites
Inbound links are not all that matters. Link to other relevant and authoritative web pages. Google will think your page is more credible if you link to a relevant site that they think has great information and a great reputation. To them it means you are doing your homework and sharing it with your readers.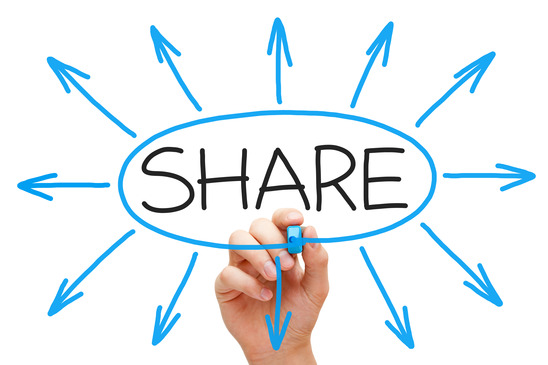 Conclusion
I hope you realize how easy and effective these 5 SEO tactics are. Chances are, your competition is not reading this post, so take advantage.