Latest posts by Marvin Russell
(see all)
For those who don't know me, I'm Marvin. I founded MySiteAuditor back in 2013 while running a boutique digital marketing agency in Chicago. I'm still heavily involved in MySiteAuditor, and am continuously looking for ways we can improve our software. My favorite method for doing this, is simply listening to our community's requests and concerns.
So, towards the end of 2017 we sent out a survey to all our members looking to learn how we could improve MySiteAuditor.
We asked.
We listened.
We start implementing.
So far…
1. We updated our Audit form designs
Many of you said the designs of the audit forms were totally outdated. You were right. Five years old may as well be 100 years in the tech world.
After thinking it through first, we decided that a total redesign wouldn't work because so many of our audit forms are currently embedded on current member websites. So instead we did major enhancements and improvements:
We flattened the design
We removed some of the bubbly edges on the fields and buttons
We evened everything out
We focus more on the URL field
We did this for our three most popular audit forms:
Large Form
Small Form
Slim Form
Here's an example of the old and new Large Form design.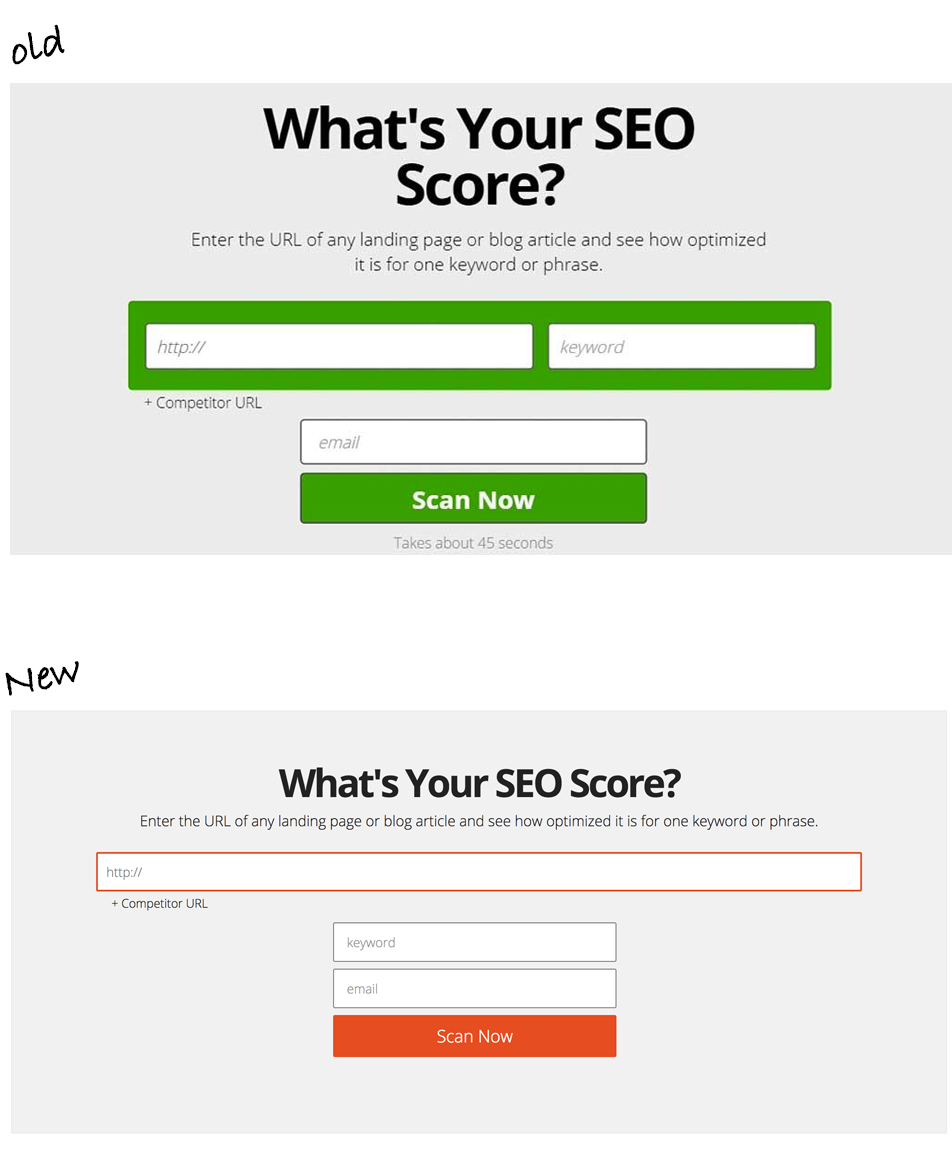 Click here to see the the new large form LIVE!
2. We updated outdated audit report signals:
Removed Tweet Counter (No longer available)
Removed Number of Linkedin Shares (No longer available)
Updated Description Length to 170 Characters
3. We added a Gmail/Google Sign in
You can now login to MySiteAuditor using your Google or Gmail account.
4. We launched MySiteAuditor Academy
I have to admit, as founder of MySiteAuditor it's easy for me to forget that not everyone automatically knows the best methods for using MySiteAuditor. It's up to myself and my team to provide the best data, case studies, and tutorials for our members. That's why I decided to launch MySiteAuditor Academy.
This new section of our website will focus on providing our members with:
Data Science collected from MySiteAuditor
Case studies from willing members
Tutorials on using MySiteAuditor
Webinars
SEO Sales Lessons
SEO Leads Lessons
and more
5. We added optional GDPR checkboxes
The whole world, including us, went GDPR crazy this past spring. We quickly added GDPR checkboxes to two of our most popular forms to make sure all of our members were protected.
Well, we got some feedback, and it was very clear that we needed to make GDPR optional. So we did. You can now turn a GDPR Checkbox on or off on our Large and Small audit forms.
By default, GDPR is not turned on, but you can easily add it by generating a new Large of Small audit form.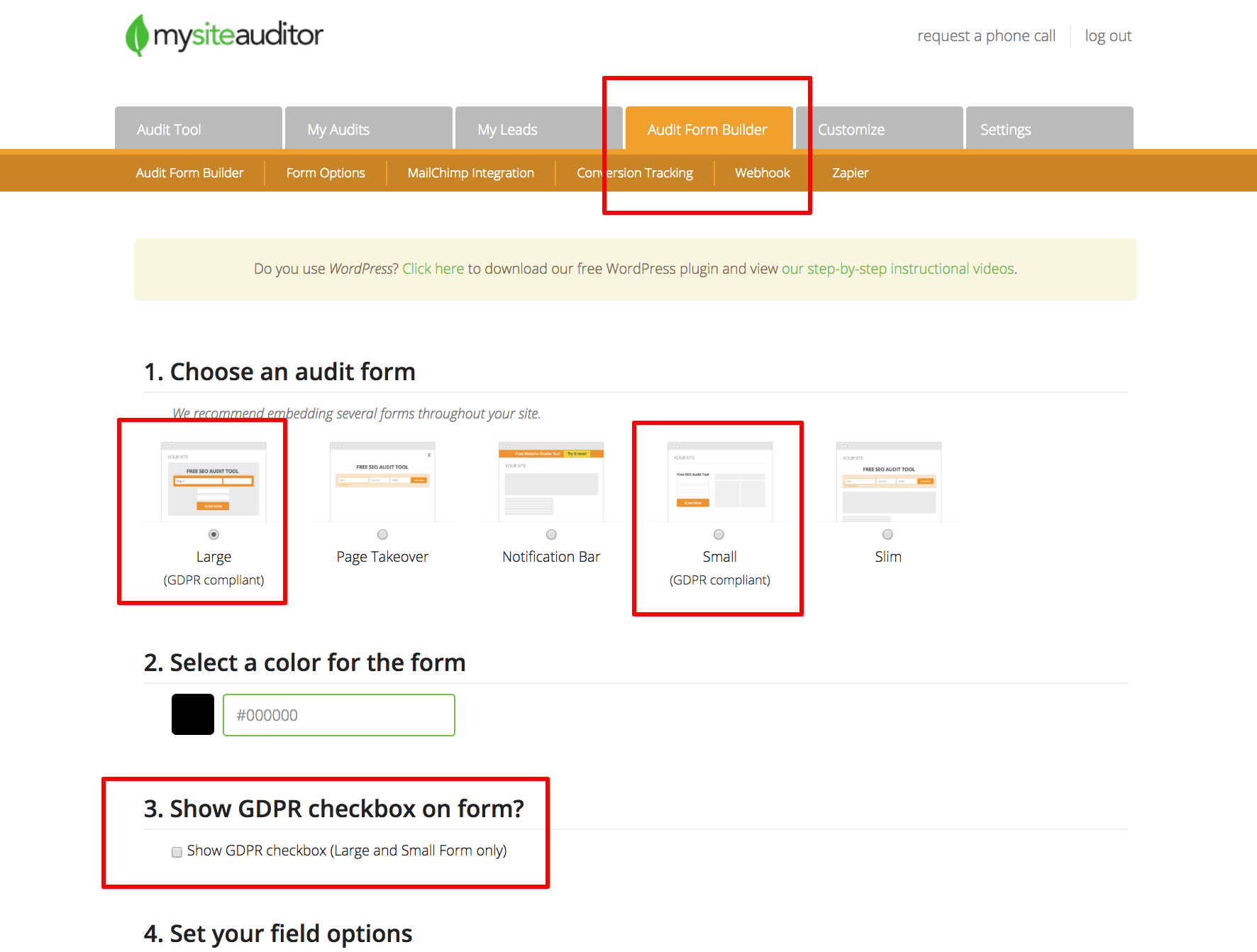 What's Next?
1. Optional Keyword Field
Many of you continue to ask for an option to remove the keyword field from our audit forms. We hear you and we agree. This would create less friction and increase conversion rates.
Unfortunately, it's not as simple as we had hoped. MySiteAuditor was built around the keyword field so making it optional will take a little more time. But a solution is coming.
2. Updated WordPress Plugin
We're always looking to make MySiteAuditor easier to use. While our WordPress plugin works great, it needs updating, and that coming up soon.
3. Improved Audit Report Design
We realize the audit reports could use updating as well, especially now that we've updated the Audit Forms. We're working on it and will keep you updated.
4. SEO Reports
Since we provide initial SEO audits for prospective clients, many of you asked if we would also provide SEO reports for current clients. This is something we are looking into and considering. We'll keep you posted.
5. Entire Website Audits
In our end of the year 2017 survey, auditing an entire website was highly requested. We hear you, and are still looking at possible options. Keep in mind, MySiteAuditor tries to determine how optimized a web page is for a keyword. We do this to mimic the behavior of Google users. A Google user typically enters a keyword in Google, and Google serves the most relevant web pages, not web sites.
We'll keep you posted as we continue to consider full site audit options, and
Tell me your thoughts…
Please comment below. I'm all ears and will try to respond to everyone.