Latest posts by Marvin Russell
(see all)
At some point in time, everyone is new to digital marketing, even digital marketers. Plus every industry is different. Getting traffic to a client's website can be very different than getting traffic to your agency's website. In this post, I'm going to show you how to get a boatload of traffic to your agency's website; and if your agency uses MySiteAuditor, more traffic means more leads from your free SEO audit tool.
Before getting started. I have one rule. Don't just attack this list. Organize your week into tasks from the list below. Otherwise, you and about 90% of the other people reading this post won't be successful at what I'm about to show you. So, make a schedule of what and when you're going to do the following.
[att_highlight color="red"]Read a related article I wrote: 10 Incredible Ways I Got 1,000s of SEO Leads[/att_highlight]
1. Organic SEO – Target
local

keywords

I spent a couple years targeting local keywords on my agency's website, and it was worth every minute. Once we got to the top of page #1 traffic would pour in all day every day. That's why I created MySiteAuditor. Our contact form only converted about 2% of that traffic, our free audit tool converted close to 20%.

A big reason my agency was successfully acquired in 2014 was that we're ranked #1 in Google for "Chicago SEO", #3 for "Chicago Web design", and #1 for "Chicago PPC". We didn't waste any time targeting national and super competitive keywords. When initially targeting local keywords, we found that putting the city before the keyword gave us way more traffic. For example, we found that being ranked #3 for "Chicago web design" drove way more traffic than being ranked #1 for "Web design Chicago". I can't guarantee this is the same in every market, but people are people, and my guess is that it would be the same.

Right now, some of you are thinking, "It's not that easy." The good news is that I give you my formula for landing page optimization on MySiteAuditor's audit tool; and the secrets of creating awesome content are spread throughout this blog.

(If you're not an agency, don't worry, you can follow my optimization formula at OptimizeMySite.com)
2. Blog
Every page on your site is a road into your site. More roads means more people will be able to find and visit your site. It's that simple. Articles are pages or roads, so you need to create as many quality articles as possible to get as much traffic to your site as possible. However, bullshit articles don't count. They need to be well researched, very visual, and specifically target your audience.
In the last 90 days, about 30,000 visitors found MySiteAuditor through our blog. That's a ton of free, valuable traffic in exchange for blogging once every week or two. That's an important key to remember. Don't blog every day. Blog once or twice every week or two and make your posts super freaking awesome. One awesome article is way better than five bad articles.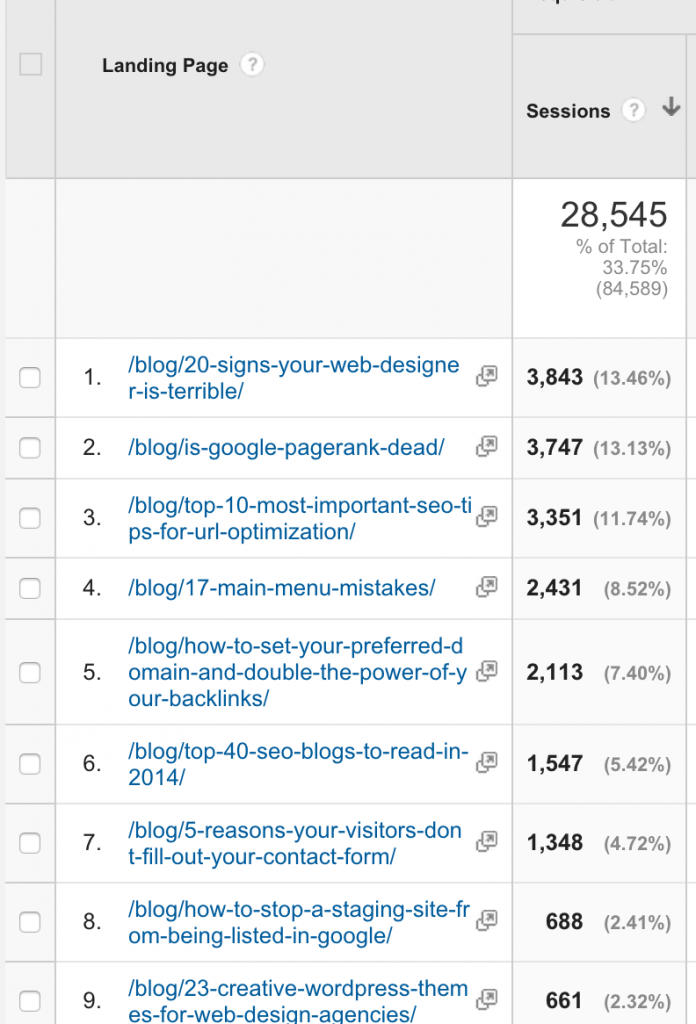 One more thing, as Neil Patel said in his post, How I Built a 7 Figure Agency, "Give Away the Farm". Don't be afraid to give away your secrets in awesome blog posts. Knowing how to do something is very different that actually doing it.
Read: [att_highlight color="blue"]5 Steps You Never Skip When Launching a New Blog[/att_highlight]
3. Guest blog
A former employee of mine at The Ocean Agency wrote a guest post last year for Business 2 Community. Since it was posted, we get about 200+ free trials every single month from that article. Guest blogging is insanely huge, especially if you're super strategic. Below is (a list) of the free trials we got in the last 30 days from that one guest blog post.

4. Syndicate
Once you're done writing an awesome blog post, syndicate the shit out of it. Don't just rely on the blog to do all the work. Help your post get found and shared. But always do it ethically. In other words, make it easy for other people to publish and share your content, or a snippet of your content, with the proper link back to your original content.
Read: [att_highlight color="blue"]Here are 23 ways to syndicate your creative blog posts. [/att_highlight]
5. Targeted advertising
Facebook is my favorite example for targeted advertising. You can target a city, state, country, gender, age, and what keywords people have in their profile. If you want to only show your ads to 30 year old, real estate attorneys in Chicago, you can easily do that.
When advertising on social media sites like Facebook it's important to know the facts and the stats behind what other advertisers have already tested and know. For example, I know from our experience advertising MySiteAuditor, offering a free download or tool in our Facebook ads get us about 20 times more conversions.
More Facebook ad facts: (source: Adespresso)
The most popular headlines are only 5 words long
The most popular word is "You"
Negative ads tend to perform better
69% of Facebook ads link to a landing page
The best performers have 100's of ads
Other targeted ad platforms:
Google Adwords
Twitter
Linkedin
6. Freebies for sharing
People I have never met, all over the world,  share my new Checklist web app, https://checkli.com. They share it on Twitter, Facebook, Google+ and many other social media platforms. The reason they share my app so much is because sharing one time unlocks a feature that allows them to personalize their checklists with their logo and colors.  I think that's a fair deal, right? It takes them 5 seconds to share, and in exchange they get a free feature on my web app.
I'm trying to be more #productive by creating checklists at http://t.co/xNd828GM1u. Got any other #lifehack tips? https://t.co/Zi6e7lkN2l

— Rob Weaver, PMP (@accuweaver) October 17, 2015
Do you use checklists to get things done? I do. Found this and it looks pretty good! http://t.co/tsPvZL5hHK

— Christine Alexander (@ChristineTweet1) October 10, 2015
Got any #productivity tips? I started using http://t.co/H7rdrzKOur to create #checklists for everything. #lifehack | http://t.co/IV0USMCtEq

— devinlowe (@devinlowe) September 24, 2015
Freebie ideas:
Web app Features
Checklists
Ebooks
White papers
Tools
Videos
Tools:
7. Quora
Simply put, Quora lets you help people by answering their questions. Occasionally, when relevant and natural, you can add a link to an article you wrote on your site that helps answer a question.
Quora is an excellent way to build brand awareness and get traffic to your site. But don't abuse the site. Adding irrelevant links to your site will get your content flagged and banned.
Other QA sites great for agencies:
8. Praise top influencers
In the next blog article or guest blog article you write, try to pay homage to a well respected thought leader or influencer in your industry. Someone with lot's of credibility and lots of followers. Include a big quote from that person or maybe a snippet of video about that influencer.  When you post that article, email or Tweet the influencer to alert them about the article. If you did everything right, hopefully that influencer will share your article with all their followers. Boom. Traffic!
9. Repost old content
Unless your blogging about the nightly news, repost your articles over and over. Chances are they're still relevant. Don't post the same article all day, everyday. Spread it out and share that great article every couple of months, but in different ways. Share the title the first time, then maybe use a quote or different image the next time you share.
10. Study the science behind viral content
Millions of websites, articles, and other forms of content have already been posted and studied. So learn the science behind what makes content go viral so you can maximize the amount of traffic you get from your website.
For example, BuzzSumo analyzed 100 million articles to see why content goes viral and here are some of the things they found:
Longer articles get almost double the shares
Tuesdays are the best day to share content
The most popular list articles have 10, 23, and 16 items
Twice as many people share articles with at least one photo
Make people happy because happy articles get a ton of more shares
Read the 10 Proven Ways to Make Your Content Go Viral
In conclusion
Don't just start this list, make a schedule or create a checklist of what you're going to do and when you're going to do it, to start getting more traffic. Plan what days your going to blog and what days your going to answer questions on Quora. Once you have your schedule mapped out, then start growing your traffic.